Some of our shining students: Cal's Native leaders and scholars
Mailing Address:
241 Cesar Chavez Student Center #2440
University of California Berkeley
Berkeley, California 94720-2440

Follow us!
 CLICK HERE to sign up for our newsletter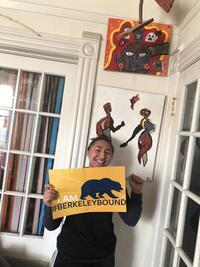 Poppy Gallegos-Zingarelli
Class of 2024
Incoming First Year
Poppy is Navajo (Diné), Mescalero Apache and Taos Pueblo and joins us as a first-year student from occupied Yelamu Ohlone Territory, San Francisco. She graduated from The Academy of Arts & Sciences (San Francisco @ McAteer) and is interested in pursuing a double major in political science and Native American studies at Cal. She has earned several scholarships from the Boys and Girls Club of San Francisco and 10,000 Degrees. She writes for the student online magazine The Blue Bean.  
While attending Native orientation this July, her enthusiasm on her team, Flowing Upstream, her zeal for connecting new students via social media and her Bay area pride made it clear that we have a great addition to our Native community at Cal.
Ataya Cesspooch
PhD Student - Environmental Science, Policy & Management
Ataya Cesspooch is an enrolled citizen of the Fort Peck Sioux and Assiniboine Tribes and a descendant of the northern Ute Tribe. She is in her third year of doctoral studies in environmental science, policy and management where she examines the complex and contradictory relationships between environmental justice, oil and gas development/extraction and Tribal sovereignty.
She is deeply committed to Indigenous community building and is one of the coordinators of the American Indian Graduate Student Association and a member of the Vice Chancellor for Equity and Inclusion Native American Advisory Council. She also co-hosts NASD's Indigenous United podcast alongside Alexii Sigona and Sierra Edd. The podcast covers current events and highlights Indigenous issues through interviews with Indigenous artists, scholars and activists.
Prior to starting her PhD at Berkeley, Ataya worked for her tribe (northern Ute) and later the Bureau of Indian Affairs as an environmental protection specialist. The position involved assessing the environmental impacts from proposed oil and gas wells cited on the reservation.  During the five years she spent doing this work, she identified tensions between Tribal sovereignty and federal environmental oversight, particularly around the regulation of air quality. Her research seeks to better understand these dynamics and address the resulting public health concerns.
 Ataya is passionate about revitalizing the Ute language and is pursuing a designated emphasis in Indigenous Language Revitalization. She hopes the DE will help her learn the language, strengthen the language curriculum for her community, and ultimately anchor her work in Ute epistemologies. Ataya is a Chancellor's Fellowship recipient (2018-2020) and was awarded both the Ford Fellowship and the National Science Foundation Graduate Research Fellowship in 2020. She declined the Ford Fellowship and accepted the NSF Research Fellowship which provides three years of funding to graduate students pursuing research-based degrees in STEM disciplines.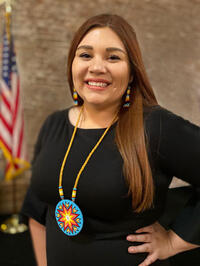 Atsi Zaragoza
Class of 2021
Student Regent
Atsi is a passionate Cherokee and Chicana activist in Higher Education, having served on multiple boards during the entirety of her college career. First in community college, serving as a Board Member on the California Community College's Board of Governors, appointed by Governor Brown to represent 2.1 million students across a system of 115 colleges, as well as serving on the Board of Trustees for Calbright College, the first-ever online community college in the world. Since then she has transferred to UC Berkeley to pursue a degree in Geography and Political Science. She began serving on the Board of Admissions for the UC system in 2019 and currently serves as the 2020-22 Student Regent for the University of California Board of Regents. She is also a McNair Scholar studying rural education and disparate impact on BIPOC students in admissions to top universities in California.
Atsi is passionate about making higher education more accessible specifically to students of color and Indigenous students and found home in the NASD office and INC space during her first semester, later becoming an Intern for NASD.
 Atsi's priorities for being a Regent are primarily diversity in admissions and in faculty, as well as transfer reform, taking away barriers in Cal Grant, and bettering campus climate. She also wants to work with Indigenous students in the UC system to create a more cohesive network for advocacy and cares about issues such as Mauna Kea protection and establishing better tribal relations at each UC campus. She also wants to meet with students of many groups, not only student governments, and bring awareness to topics during Regents discussions as well as in meeting with each campuses administration to uplift student voices around the system.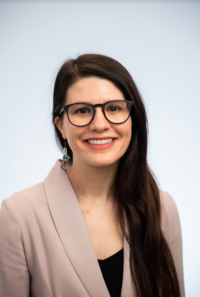 Kathleen Whiteley
President's Postdoctoral Fellow 2020-2021
Kathleen Whiteley (Wiyot) is currently a UC President's Postdoctoral Fellow at UC Berkeley. She completed her B.A. in Native American Studies at UC Berkeley. As an undergraduate, she worked as a liaison between the Multicultural Community Center and the Native American Student Development Office (2010-2013). She was also a Mellon Mays Undergraduate Fellow (2011-2013). She received her PhD from the University of Michigan (2020). Next fall, she will start as an assistant professor of Native American History at UC Davis in the Department of Native American Studies. Dr. Whiteley's dissertation, "The Indians of California versus The United States of America: California Dreaming in the Land of Lost Treaties, 1900-1975," traces the history of two land claims cases brought by the Native peoples of California against the federal government. This project argues that these legal actions and the Indigenous political organizing behind them not only offered Indigenous peoples in California a path towards remuneration, but also new ways of conceiving local identities and imagining inter-tribal political coalitions. Her research on California Indian history has been supported by the Woodrow Wilson National Fellowship Foundation, the Social Science Research Council's Mellon Mays Initiatives, the Rackham Graduate School at the University of Michigan and The Newberry Library. She plans to publish a revised version of the dissertation as a monograph, and then to develop a second project that examines the history of the eighteen "lost" unratified treaties made in California between 1851-52. Dr. Whiteley was born and raised in Eureka, California.