Some of our shining students: Cal's Native leaders and scholars
Mailing Address:
241 Cesar Chavez Student Center #2440
University of California Berkeley
Berkeley, California 94720-2440

Follow us!
 CLICK HERE to sign up for our newsletter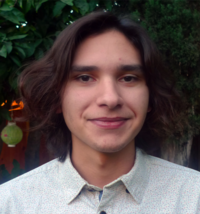 Breckin Morillo
Class of 2024
Incoming First Year
Breckin is an inquisitive yak titʸu titʸu yak tiłhini Chumash freshmen majoring in microbial biology from occupied Tamyen Ohlone territory, San Jose. After two years at Willow Glen High school, he chose to complete his studies through San Jose City College's Middle College program. He is deeply fascinated by all things scientific, biological, cultural, and musical. As a recent admit to UC Berkeley, he is eager to use his education to improve the lives of others through innovation.
Throughout high school and middle college, Breckin worked as an electrical engineering intern at NextFlex, America's Flexible Hybrid Electronics Manufacturing Institute. Beginning his work in a class 1000 cleanroom at the age of 16, he has made significant contributions to automated robotic systems and technical process documentation. He hopes to one day intertwine his interest in biology and engineering within the realm of biotechnology to promote sustainable, ecologically responsible, and avant-garde alternatives to modern-day industrialized processes.
Breckin's interests remain highly diverse. In his past time, he enjoys performing on a wide array of musical instruments, including modular synthesizer, guitar, mandolin, upright bass, sitar, and jaw harp with his current band, The TR6 Trio. Shortly before his start at Middle College, Breckin began focusing heavily on Chumash linguistics, working with his family's language pod to study the tiłhini dialect of Chumash. It is a lifelong goal of his to keep this language alive and well.
Alexii Sigona
PhD Student - Environmental Science, Policy & Management
Alexii Sigona is a member of the Amah Mutsun Tribal Band and second year doctoral student in Environmental Science, Policy and Management. He is interested in how Indigenous environmental stewardship supports community land access rights and healing. His work centers around Native American land trusts, collaborative natural resource management, and non-federally recognized tribes. 
With NASD, Alexii has been involved in the Native Jumpstart program and is co-host of the Indigenous United Podcast with Ataya Cesspooch and Sierra Edd. For the past three summers Alexii has worked for the Amah Mutsun Land Trust as a Native Land Steward and program assistant. This work inspired him to go to graduate school and work with his community. 
This past summer, he helped organize a virtual youth camp for over 60 Amah Mutsun youth, sending culture boxes containing traditional foods, Mutsun language lessons, and craft items. He also is a co-leader of the Amah Mutsun Youth Group, a newly established group that hosts virtual talking circles, food and medicine gathering, and youth activism. 
Alexii is an Intertribal Agriculture Council-INFAS fellow, UC Berkeley Chancellor's Fellow, and Ford Foundation Predoctoral fellow. He is currently working on a project supported by a Critical Mission Studies grant. He is a board member for Roots & Routes IC, on the advisory board of Green Foothills, and active in the ongoing Protect Juristac campaign.
Royale Pinassi
Class of 2023
Royale Pinassi is a community member of the Quartz Valley Indian Reservation and is in her 2nd year of Undergraduate Studies majoring in Conservation and Resource Studies through the College of Natural Resources. She is currently creating her area of concentration which will mainly focus on Indigenous water conservation. land stewardship, and Tribal food sovereignty.
 In her time so far at Cal, Royale has found community as well as worked as an intern in the NASD office in graphic design, and is now the Outreach and Recruitment Coordinator for the Indigenous and Native Coalition. She is currently planning programming for Native Jumpstart, which provides high school seniors guidance and support with their UC application. She is also an intern in the Summer Program for Undergraduate Research (SPUR) and is currently working on qualitative analyses of Native plant specimens as well as coding interview transcripts of cultural practitioners that are located back home on the Karuk homelands. To her, it is truly special to be able to stay reconnected with the land back home while being in academia. She has also been apart of the Cal Women's Rugby team for 2 years, which has been loads of fun.
Before coming to Cal, Royale graduated from Happy Camp High School, and during her time there she passionately advocated for more support when it came to Native youth in higher education. She was apart of tribal youth council as well as Title VI committee and had the opportunity to travel to Native Leadership Conferences to meet other Native students who also wanted to do the same thing for their communities. She also has participated in outdoor workshops and presentations back home on Traditional Ecological Knowledge for undergraduate students, graduate students, as well as faculty from Humboldt State, UC Berkeley, and Stanford. Royale is a Fiat Lux Scholar recipient, Ford Family Scholarship Recipient, and a McConnell Scholar recipient, which all provide support for her Undergraduate as well as Graduate education which she plans on pursuing. In her free time, you can find Royale helping to make her sister's dress and regalia for upcoming ceremonies, and spending time with her grandma gardening on their reservation.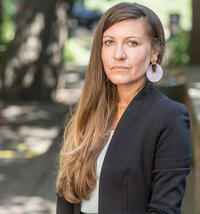 Sarah Whitt
President's Postdoctoral Fellow 2020-2021
Sarah Whitt is a proud member of the Choctaw Nation of Oklahoma and a recent graduate of UC Berkeley's Ethnic Studies Department, with a designated emphasis in Gender, Women, and Sexuality Studies. She also received her MA from UC Berkeley's Ethnic Studies Department, and graduated with a BA in Women and Gender Studies from the University of Nebraska-Lincoln. She currently holds an appointment as a UC President's Postdoctoral Fellow in the Department of History at UC Riverside, and in 2021 she will join UC Irvine's Global and International Studies Department as Assistant Professor. 
Her dissertation, "False Promises: Race, Power, and the Chimera of Indian Assimilation, 1879-1934," traces circuits of adult American Indian confinement, punishment, and resistance at two federal facilities intended solely for American Indian people: the Carlisle Indian Industrial School in Carlisle, PA, and the lesser-known Canton Asylum for Insane Indians in Canton, SD. In considering punitive similarities between ostensibly distinct settler institutions, her research reveals how white American citizens wielded punishment as a form of racial power held in common over Indian people in this era. In addition to receiving support from the UC President's Postdoctoral Fellowship, her research has been funded by the Ford Foundation, the Cobell Scholarship, and the Choctaw Nation of Oklahoma. 
As a postdoctoral fellow, she will spend the 2020-2021 academic year preparing her first book manuscript, Bad Medicine, for publication. Her second project, "Ford's Original Americans," will interrogate the role that the Ford Factory in Detroit played in the lives of Indian men within the context of shifting federal Indian policies, urban dislocation, and the heightened mobility of people, goods, and capital in the early twentieth century. Sarah is passionate about historical inquiry, and hopes her work will help change the way Indigenous histories are narrated and understood in the academy and beyond.