Some of our shining students: Cal's Native leaders and scholars
Mailing Address:
241 Cesar Chavez Student Center #2440
University of California Berkeley
Berkeley, California 94720-2440

Follow us!
 CLICK HERE to sign up for our newsletter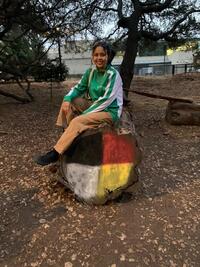 Cheyenne Tex
Northfork Rancheria of Mono Indians of California
Class of 2021
Cheyenne Tex is a Queer, Indigenous photographer and journalist pursuing a degree in Media Studies at UC Berkeley. Before transferring to UC Berkeley, Tex attended Reedley College and obtained their associate degree in communications. Tex has a passion for photojournalism as well as fine art, documentary and conceptual photography. Tex has published work in the Madera Tribune, the Fresno City College Rampage Newspaper, the Daily Californian, and GIA Mag. Tex has also worked on two projects in a graduate-level documentary course offered through the UC Berkeley Graduate school of Journalism: one titled The Race Track and the other documenting the SF Bay area. Tex has also spent some time working in the Native American Student Development Office managing social media, developing the Indigenous United podcast, and doing graphic design and illustration for the Sovereign Bodies Institute. Moreover, Tex created a media organization called RAW Media, an independent, student-run magazine that centers BIQTPOC, rawmedianow.com. Furthermore, Tex's research interests include race, gender, and sexuality representation in the media with a focus on Native American representation in the media. Tex is currently working on her senior honors thesis exploring photographic representations of Native Americans and the impacts it has on Native American people. Overall, Tex is dedicated to telling stories and hopes to continue exploring visual storytelling methods.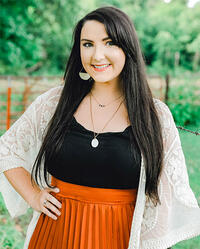 McKalee Steen
Cherokee Nation
PhD Environmental Science, Policy, and Management Sustainability
McKalee Steen, a member of the Cherokee Nation in Oklahoma, grew up on a farm in the northeastern corner of the state. It was on this farm that her parents and grandparents instilled in her a deep respect and care for the environment. In May 2020, she graduated from Vanderbilt University with a degree in Earth and Environmental Science and minors in English and Environmental Sustainability Studies. She is now a first year PhD student in the Environmental Science, Policy, and Management (ESPM) department. Her current research interests include land use and land use change, and the environmental and ecological impacts of Indigenous land management practices. McKalee is currently serving as the U.S. Junior National Student Representative for the American Indian Science and Engineering Society (AISES). Through all of her work, she hopes to give back to Indian Country, and leave things better than she found them. McKalee is passionate about the power of storytelling - old and new, traditional and modern, poetic and scientific - and incorporates this into her work and hobbies.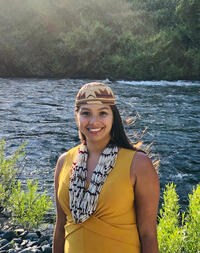 Sara L. Chase
Hoopa Valley Tribe
Assistant Professor, Department of Child Development
Sara L. Chase Merrick is a citizen of the Hoopa Valley Tribe and a descendent of the Shinnecock Indian Nation. Sara grew up in her ancestral homelands, on the Hoopa Valley Indian Reservation in far Northern California. She continues to learn from her people (Na:tinixwe) and the land (ninisa:n). She also grew up frequently spending time on Shinnecock Indian Reservation in Long Island New York, and continues to learn from her people and the land. Sara is currently an Assistant Professor in the Department of Child Development at Humboldt State University. Sara earned her Ph.D in May of 2020 from UC Berkeley's Graduate School of Education with a focus in Language, Literacy and Culture. Her doctorate degree also includes a Designated Emphasis in Indigenous Language Revitalization. While at UC Berkeley she was a Chancellor's Fellow and a Ford Foundation Predoctoral Fellow. Her research interests center around Education for decolonization and the resurgence of Native nations through reaffirming Indigenous pedagogies in the classroom and beyond. Sara's current collaborative, community-based research project and recently completed dissertation: Na:tinixwe Education as a Site for (Re)newed Words and Worlds, draws from Hupa language resurgence work she has been a part of for the last decade. One notable partnership from this project has been with the Hoopa Tribal Education Association to create and conduct a transformative research praxis and educational initiative: the Xontehł-taw Hupa Language Immersion Camp. Sara is also a Na:tinixwe Mixine:whe (Hupa Language) learner-teacher. She works with her Aunt Verdena Parker to learn Hupa and to create curriculum and language programming to pass on all that she learns to future generations of Na:tinixwe.