Some of our shining students: Cal's Native leaders and scholars
Follow us! 
Phenocia Bauerle, Director
Phone: 510-725-7370     

Mailing Address:
241 Cesar Chavez #2440
Berkeley, CA 94720
University of California Berkeley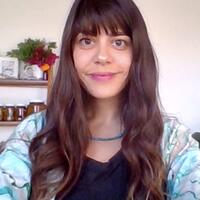 Ash Cornejo
Yoeme (Yaqui) and of Mexican descent
Class of 2022
Ash Cornejo is Yoeme (Yaqui) and of Mexican descent and is currently a junior at Cal majoring in Interdisciplinary Studies. She is a transfer student from Santa Monica College in Los Angeles, and is a first generation, non-traditional student. Ash currently lives in Los Angeles with her partner and their animals but is looking forward to relocating to Berkeley this summer. 
Before coming to Cal Ash worked as an indigenous languages interpreter coordinator, connecting indigenous language interpreters with those in the superior and immigration court systems. It was through this work that Ash discovered a passion for indigenous language rights and reclamation and returned to school after a nearly fifteen-year hiatus from academia, taking community college classes at night, after working at the office. 
As an Interdisciplinary Studies major Ash is able to combine courses in Anthropology, Integrative Biology, and Chicanx/Latinx Studies. Her focus in this major is medical ethnobotany and will complete independent research and write her senior thesis on this topic, specifically the effects of indigenous language loss on indigenous plant use in the U.S. and Mexico. With a deep interest in indigenous plant use for medicine, food, and ritual, as well as a passion for language rights, Ash hopes to document the importance of indigenous language use in respect to preserving indigenous traditional ecological knowledge. Ash worked with Rosemary Joyce on an Undergraduate Research Apprenticeship (URAP) for the last two semesters, and recently was awarded a Research Apprenticeship Program fellowship through the Student Learning Center. This fellowship will enable Ash to conduct independent research this summer. Her proposed research topic is related to botanicas in Los Angeles, documenting an oral history of Latinx healers, herbalists and curanderos. Ash is also a student intern with Native American Student Development Center and has enjoyed hosting an herbal medicine making workshop this semester and attending beading meet ups when possible.Aside from academia, Ash enjoys playing the theremin, the guitar, and the electric bow, and used to perform in noise bands in her 20's. Now she mostly enjoys cooking, gardening, watching Japanese reality TV, and spending time with her animals.
Dallas Lopez
Gila River Indian Community
3L
Dallas Lopez is a member of Gila River Indian Community (located south of Phoenix, AZ). He is currently in his 3L year at Berkeley Law.  Growing up in Oregon meant he was far from his tribal community, but since the third grade became heavily involved in the urban Native program for youth. There he spent time with elders from the Northwest, learned to bead and work leather, and how to dance traditional and grass dance. Dallas' family did not have the funds to send him to college, but was lucky enough to be awarded a Gates Scholarship through the American Indian Graduate Center. 
Dallas attended college in Santa Barbara, California. During his summers he worked with Native youth at the Native summer camp he grew up in, interned for College Horizons and Young Native Scholars. He also founded a spring break trip to work with Native Youth on reservation. 
After college, Dallas sought a master's degree in education and taught English literature for seven years in East Los Angeles. It became clear to him that the best way to combat capitalism and improve young peoples lives was through creating safe space in the classroom for young people to critique our society. It was while helping a fellow teacher apply to law school that he discovered law. 
Prior to attending Berkeley Law, Dallas attended the American Indian Law Center's Pre-law Summer Institute in Albuquerque, NM. There with 30 other Native students and law professors he learned about the U.S. law through the lens of Indigenous people. Coming to Berkeley he was determined to carve out space for Native students at Berkeley Law. Dallas and other Natives at Berkeley Law restarted the Native American Law Students Association. The group also hosted the National Native American Law Student Association Moot Court. While in law school he also served as the Co-chair of NALSA, the Chair of the For People of Color Conference, Co-Editor in Chief for La Raza Law Journal, and the executive board for the Coalition for Diversity. 
After law school, Dallas will move to Washington D.C. to work in an American Indian practice group representing his own tribe and others.