GenEq is a support resource for women's organizations and welcomes opportunities to collaborate with student groups on projects and events. Come by GenEq if you are interested in forming a student group, or would like your organization to connect with GenEq. Our office often collaborates with numerous student groups on projects such as Women's History Month and Sexual Assault Awareness Week. Click on the name of a group in order to read its description and ways to get involved. This list is not exhaustive, please click here to do a search of your own for student groups. Click here for more information on how to start your own student group.
Quicklinks:
Campus Resource Programs & Offices
Undergraduate Student Organizations | Graduate Student Organizations
Faculty & Staff Organizations | Educational Women's Resources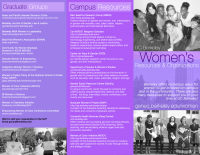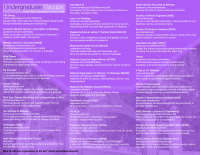 Download the Women's Organizations and Resources brochure!
Campus Resource Programs and Offices
The Beatrice Bain Research Group (BBRG) is the University of California, Berkeley's critical feminist research center. Established in 1986 to support and coordinate feminist scholarship across disciplines, the BBRG fosters research on gender and women, and is particularly interested in enabling research on gender in its intersections with sexuality, race, class, nation, religion, postcoloniality and transnational feminisms. To meet the needs of its various constituencies, the BBRG engages in a range of activities. These include: Scholars In Residence Program, Affiliated Scholars Program, and BBRG Panels and Lectures Series. The BBRG is the main research program within the Department of Gender & Women's Studies. The BBRG is a member of the Gender Consortium at UC Berkeley.
This scholarship program is designed for women in STEM and provides a high level industry female mentor, financial scholarship, advising, and additional resources. This is a five year pilot and this 2016 application will be recruiting five scholars for the fifth cohort of this program.  The funding for this program goes to program support administered through the Cal NERDS program and to our campus Scholarships and Financial Aid office.  At this time we will be targeting students who graduate in May 2017 for budgeting reasons.  It does look like this program will continue beyond this five year pilot - with a new five year cycle (more details for that new five year cycle will be shared in 2017).
The Center for Race and Gender (CRG) is an interdisciplinary research center at the University of California, Berkeley that supports critical and engaged research on race, gender, and their intersections.  Launched as a result of the 1999 Ethnic Studies Student Strike, the CRG cultivates research and creative projects led by students, faculty, artists, activists, and community members.
The Department of Gender & Women's Studies offers interdisciplinary perspectives on the formation of gender and its intersections with other relations of power, such as sexuality, race, class, nationality, religion, and age.
The Gender Equity Resource Center is part of the Gender Consortium at UC Berkeley. Established in 2003, the UC Berkeley Gender Consortium coordinates activities and events organized by varied campus units with a focus on issues of gender and sexuality.
The Office for Faculty Equity & Welfare (OFEW) is committed to the full participation in academic careers for all scholars, including individuals who are members of groups that have been historically underrepresented in higher education such as women, ethnic minorities, religious minorities, individuals with disabilities, veterans, lesbian/gay/bisexual/transgender, and others.
The Office for the Prevention of Harassment and Discrimination (OPHD) is responsible for ensuring the University provides an environment for faculty, staff and students that is free from discrimination and harassment on the basis of categories including race, color national origin, gender, age and sexual orientation/identity.
The OPHD Office has the specific responsibility for providing prompt and effective responses to all complaints of sex discrimination or harassment for faculty, staff and students. The Office also responds to concerns from faculty and students regarding other forms of discrimination as covered by University Nondiscrimination policies-- such as, age, religion, national origin, etc. The Office of Human Resources handles non-academic staff complaints of discrimination as outlined in personnel policies and contracts. The Academic Compliance and Disability Standards Office handles disability complaints from all faculty, staff and students.
This website includes information on: Night Time Personal Safety, General Theft Prevention, University and Personal Property, Protect Your Laptop, Suspicious Persons and Behaviors, Vehicle Safety, Bicycle Safety, Special Event Safety (concerts, sporting events), Personal Information Safety ,Automatic Teller Machine Safety, Information on Defensive Sprays (Mace and Pepper Spray), Information on IDENTITY THEFT, and the CAL-RAD Self Defense Training
Undergraduate-Focused Student Organizations
See below for a list of active undergraduate student organizations!  This list is accurate to the best of our knowledge - if you have more recent information about any of the below, or want to add your new organization, please email geneq@berkeley.edu!  To see a list of organizations that are currently inactive, click here. 
To find the meetings times and locations for the below organizations, please email them or check their organizational website/facebook page (hyperlinked in the group name)!
AMWA at Berkeley is a branch of the national organization, which seeks to provide lifelong services and opportunities for individuals interested in medicine, public health, science, and service, at any stage of their career. It is a service-based organization that strives to promote initiatives such as Human Sex Trafficking, Prevention of Childhood Obesity, and Women's Health issues. We are a new organization on campus and are excited to launch our club this semester!https://www.amwa-doc.org/
Berkeley Women in Business was founded by a group of dedicated and enthusiastic female Berkeley students hoping to pursue professional careers. The purpose of Berkeley Women in Business is to educate students about contemporary issues in the workplace.
CS KickStart is a one week introductory class in computer science designed for incoming freshman women at UC Berkeley. Participants learn how to program, learn about the different areas of computer science, and meet other computer science students and professionals. The program targets those who are interested in math, science, and/or engineering but have little experience in computer science. We aim to give them a hands-on experience that will reveal the creativity and power of computer science.
The Purpose of FEM Tech is to promote gender diversity and inspire women from all majors to excel in technology careers. Through organized seminars, mentorship programs, training workshops, and networking events, FEM Tech will provide a supportive community for all majors to create meaningful connections with like-minded women. We hope to excite new interest in tech and provide support for women already in STEM majors.
FemSex is a student-facilitated DeCal (Democratic Education at Cal) course that was started at UC Berkeley in 1993. The program has now spread throughout the country, and this site pertains to the original UC Berkeley class. 
The purpose of FemSex is to create a safe space that encourages and facilitates the ability of students to learn about their bodies, explore their boundaries, desires, experiences and expand their understanding of power and privilege. Topics in class are designed to raise consciousness about: anatomy and physiology, the influence of social hierarchies in all reproductive choices, solo sex, partner sex, orgasm, sex work, communication, consent, relationships, gender/sex-based violence, and empowerment. FemSex promotes an environment of self-love and hopes to create strength through knowledge using group discussion, readings, analysis, guest speakers, films, and writings.
FemSex challenges students by exposing them to diverse opinions and experiences through fellow classmates and outside resources. It is our hope that individuals leave the class with a newfound sense of empowerment, a new community, and a greater understanding of how power and privilege are expressed in the world around us.
We strongly believe that everyone stands to gain something from FemSex and can contribute to the space, so we encourage folks of ALL identities to apply. You do not have to be a UC Berkeley student to be eligible to take this course.
Her Campus is the #1 global community for college women. Her Campus serves as a career launching point for its team of college journalists.
Hermanas Unidas reaches out to the Chicana/Latina community and provides resources as well as a network through Academic Workshops/Events, Community Service Events, and Collegial Networking.
We see ourselves developing for social change–a change emanating from our communities. We declare the commitment to seek social, economic, and political change throughout our work and collective action.
The Panhellenic Council is the governing body for 15 sorority chapters on campus. Thirteen chapters are associated with the National Panhellenic Conference (an umbrella organization for 26 international women's fraternities and sororities), one chapter is associated with the National Association of Latino Fraternal Organizations, and one is a multicultural asian-interest associate chapter. The council serves to promote CalGreeks' core values: leadership, scholarship, friendship, and service.
A safe, fun, LGBTQ+ space for all who have ever, currently do, or will ever identify as Queer Womxn.
Take Back the Night is a program of GenEq that is run by students and that raises awareness and breaks the silence against sexual and relationship violence through art, music and open storytelling.
TRENZA has provided a support network for the many young women that have stepped foot on the UC Berkeley campus. Socials, parties, community events, and weekly meetings.
Women and Youth Supporting Each Other (WYSE) empowers young women by providing the resources and support necessary to make positive life choices and create community change.
WICI aims to serve as a social network of like-minded graduate students to promote women in chemistry
This organization is meant as a place where UC Berkeley students interested in the field of mathematics can foster relationships and better study habits with like-minded individuals with an emphasis on female empowerment and community in the Math Dept.
Graduate Women Organizations
The Asian & Pacific Islander (API) Women's Circle aims to provide a unique space for women to meet, connect over shared experiences, and develop strong support during graduate school. Our long-term vision is to develop a strong professional network that extends beyond our graduate experiences and that advances culturally humble/responsive and equitable public health practice to serve unique needs of diverse communities, including API communities.
Our mandate is to publish feminist legal scholarship that critically examines the intersection of gender with one or more axes of subordination, including, but not limited to, race, class, sexual orientation, and disability. The Berkeley Journal of Gender, Law & Justice (a continuation of the Berkeley Women's Law Journal) was founded in 1984 by a group of students at the University of California, Berkeley, School of Law, who came together with a vision of "preserving our voices of diversity and maintaining our commitment to social change within the often-stifling confines of a law school environment." Now in its 36th year of publication, our editorial policy distinguishes us from other law reviews and feminist journals. Because conditions of inequality are continually changing, our mandate is also continually evolving. Pieces may come within the mandate because of their subject matter or because of their analytical attention to societal differences.
Female leaders comprise an integral part of the Haas community. The Women in Leadership club is a professional resource, a social network and a vehicle to cultivate stronger female leaders in business. WIL's mission is to serve the entire Haas community through a series of professional, educational, and social events designed to enhance the understanding and appreciation of women's roles in business while equipping WIL members to achieve success.
The Boalt Hall Women's Association (BHWA) is committed to advocating for women on campus and in our local community. We work toward advancing opportunities for all women by providing a forum to discuss relevant issues in the Berkeley Law community and by encouraging activism, education, and diversity.
The group focuses on preparing the annual Empowering Women of Color Conference held at UC Berkeley. The Conference focuses on various topics each year and features various guest speakers from all over. EWOCC is recognized to be one of the longest running conferences in the nation that addresses the needs and concerns of women of color. The conference brings together cutting edge women of color activists such as Angela Davis, Elaine Brown, Cherrie Moraga, Gina Palcado and Chrystos with Bay Area community leaders and academics (especially students) to discuss and strategize ways of impacting the current issues facing women of color.
Graduate Women of Engineering (GWE) is a GradSWE organization made up of graduate engineering students from all engineering disciplines at the University of California, Berkeley. Our primary purpose is to support all graduate engineering women (in body, spirit or identity — past, present, future, and fluid) in all their engineering endeavors.
The Graduate Women's Project is the only program at UC Berkeley devoted solely to addressing the personal, social, and academic needs of graduate women. The GWP serves to connect graduate women to the support systems available on campus and advocate on their behalf at the campus and community level. While the project primarily works on women's issues and interests, it also seeks to address the intersecting concerns for women, including racial and ethnic justice; class inequality; disability and access issues; as well as queer, trans, and gender non-conforming expression, etc.
Women in Science is a UC Berkeley-based student-run group that brings together graduate students, post-doctoral fellows, and faculty members for monthly meetings. Through informal discussions, presentations, and workshops, we discuss topics relating to success both in graduate school and in future careers. Some recent meetings have focused on advice on giving an excellent job talk, writing a grant, obtaining dual faculty hires, negotiating, promoting confidence, mentoring, and exploring alternative careers to academia. We intersperse informational meetings with informal discussions with distinguished UC Berkeley faculty members.
QGW creates safe spaces for queer graduate women (trans*-inclusive) to discuss research, support queer activism, and socialize with one another.
WICSE aims at building a community of graduate student womxn and creating a welcoming and supportive environment for them throughout their graduate studies. WICSE is highly involved in outreach programs to develop interest in science among young girls throughout their childhood and teenage years. WICSE has important ties with industry partners and research institutions. The association organizes workshops to develop professional skills and hosts networking events with industry representatives, researchers, and professors. We are committed to developing a strong professional network to provide advice and professional opportunities for our members.
Our goal is to increase representation in economics by dismantling barriers to participation in our field and confronting bias. We recognize that we operate within a discipline with a long history of systemic exclusion of students and scholars based on their race, gender, sexual orientation, or other historically oppressed identities. Making economics more inclusive will require breaking down these systems and building new ones that facilitate broader, more diverse, and more equitable scholarship.
WICI, a non-profit organization founded in 2015, serves as an inclusive social and professional network of graduate and postdoctoral students of all genders and experiences. Our mission is to support the health and wellness of our members and community, as well as to promote womxn in chemistry and chemical engineering, through events both on campus and in the Bay Area. We believe that providing these opportunities for socialization, discussion, and support will increase the visibility of womxn in STEM, make connections with our local community, and encourage womxn to pursue careers in STEM.
The Womxn of Color Initiative (WOCI) advocates for and organizes events to support and engage academic and professional graduate student women of color. WOCI also helps coordinate the annual Empowering Womxn of Color Conference (EWOCC). EWOCC aims to strengthen networks among individuals who identify as women of color and seeks to embrace folks of diverse ethnic and racial backgrounds, generations, sexual orientations, nationality, and physical abilities both in and outside of the academy.
Faculty and Staff Organizations and Committees
SWEM promotes departmental efforts to achieve equality for women and minorities. You can also look through the full list of committees on theAcademic Senate committees page.
Educational Women's Resources
This site lets you search the main campus library and all 20 branch libraries as well as various affiliated campus collections, CD-Roms, gophers, and other informational resources.
This site includes books, theses, dissertation, journal articles and conference papers. Each record offers terms to let you expand your search. 
Currently Inactive/Past Student Organizations
GABRIELA Network (GABNet) is a US-based multi-racial women's solidarity mass organization. GABRIELA Network (GABNet) is a US-based multi-racial women's solidarity mass organization. We work with GABRIELA Philippines, a national alliance of more than 200 women's organizations. GABNet provides the means by which Filipinas in the US can empower themselves, functions as training ground for women's leadership, and articulates the women's point of view. GABNet effects change through organizing, educating, fundraising, networking, and advocacy. We work on issues that impact women of Philippines ancestry, but which have their roots in the decisions made in the United States. GABNet is an all-volunteer organization of women with chapters in Chicago, Irvine, Los Angeles, New York/New Jersey, Portland, San Francisco/Bay Area, San Diego, Seattle and Washington, DC.
The goal of this student group is to increase student awareness and action in anti-domestic violence initiatives. We are an all volunteer run student subgroup of the home base, Narika: A Domestic Violence Helpline for South Asian Women, whose mission is to promote the empowerment of women in our community to confront and overcome the cycles of domestic violence and exploitation. We work to build a movement at the student level to end violence against women and girls and to actively support women's rights as human rights. Our membership is diverse and we welcome students and student supporters to join us. For more information, please visit the website or email narika@narika.org.