Chicanx Latinx Student Development
Staff
Luge Gallegos-Diaz, MSW
Director
Email: lupeg@berkeley.edu
Pronouns: she/her/ella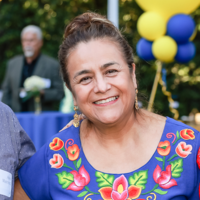 Lupe currently serves as Director of the Chicanx Latinx Student Development Center and Co-Director of the Latinos and the Environment Initiative at the University of California, Berkeley.
In these roles she leads the university's equity, diversity and inclusion efforts, and plays a key role in advancing institutional excellence. She is one of seven offices under the Center of Educational Justice and Community Engagement (EJCE) that addresses college access, support student success and enhance diversity-related teaching and learning across campus. EJCE also works collaboratively with and serves as a resource for colleges, departments and administrative units as they establish, coordinate and assess their contributions to institutional diversity, equity, inclusion and belonging goals.
Lupe has vast teaching experiences in the Chicano Studies Program/Ethnic Studies Department and School of Social work at the University of California, Berkeley. Areas of teaching and research include- identity and leadership development, health and mental wellness, environmental justice, Latinas and globalization, and non-profits, fundraising and philanthropy.
Throughout her academic and administrative pursuits Lupe has been committed to addressing educational and economic inequities and advocating for social justice needs of Chicanx Latinx communities and communities of color in higher education.
Over 30 years of experience in higher education Lupe is involved with a number of national and international organizations as a consultant and advisor including the National Association of Chicana and Chicano Studies, Muxeres Activas en Letra y Cambio Social (a higher education organization that supports Chicanas Latinas and Indigenous women) and a national advisor for the Mexican government in higher education as Consejera Consultiva del Instituto de los Mexicanos en Exterior.
She also consults and works closely with various alumni groups on advancement/fund development and sits on a variety of boards such as - statewide UC and UCB Chicanx Latinx Alumni Association, UC BIPOC Alumni Association, Environmental Justice Coalition for Water, Chicana Latina Foundation and the Bay Area Hispano for Advancement.
Lupe has a Bachelor of Science in Sociology from Santa Clara University; Master in Social Work and Certificate of Philosophy from the Ethnic Studies PhD program from the University of California, Berkeley and a Certificate of Fundraising from the University of San Francisco.
Gladys Perez, MA
Assistant Director, Latinx Student Resource Center
Email: gaperez@berkeley.edu
Pronouns: she/her/ella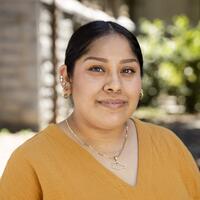 Born and raised in the Bay Area, Gladys Perez is the daughter of Oaxacan immigrants and a first-generation graduate. After completing her B.A. in Sociology at the University of San Francisco (USF), Gladys joined the administrative staff of USF where she helped foster community among faculty and students through supporting Latinx academic programs and events. She eventually joined USF's diversity and equity office where she worked closely on initiatives to support undocumented students; trans and non-binary students; develop educational programming centering equity, and worked closely with student of color leaders. In 2018, Gladys received her Master of Art in International & Multicultural Education from USF where her research included immigration, counter storytelling, and creative writing. Gladys joined the Cal community in January 2022 and oversees the Latinx Student Resource Center. Here she looks forward to maintaining a space for community joy, support, and wellness.
Evelyn Rojo, MA
Assistant Director
Email: erojo@berkeley.edu
Pronouns: she/her/ella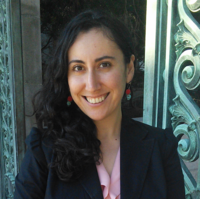 Hola todxs! I'm Evelyn Rojo and I'm the Assistant Director of CLSD. I was born and raised in Los Angeles, CA and am a second generation Chicana on my father's side and a first generation Guatemalteca on my mother's side. Now I reside in the Bay area, I earned my B.A. in Political Science and M.A. in Chicana/o Studies from California State University at Northridge. Prior to joining the Cal familia, I was the Program Coordinator for the Ronald E. McNair Scholars Program and lecturer in the Chicana/o Studies Department at my alma mater, as well as lecturer in the Ethnic Studies Department at Glendale Community College. Serving students whose educational experiences mirrored my own has always been at the forefront of how I approach teaching and mentoring. In my current position at Cal, I continue to advocate and support efforts in the outreach, recruitment, and retention of Chicanx and Latinx students.
Alexandra Acevedo Grave
Program Coordinator, Latinxs & the Environment Initiative
Email: alexandraa74@berkeley.edu
Pronouns: she/her/ella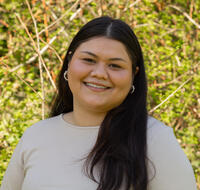 Alexandra Acevedo currently works with the Latinxs and the Environment Initiative as Program Coordinator, providing support for both faculty and student run projects. The Latinxs and the Environment Initiative, under the umbrella of the Chicanx Latinx Development Center, strives to increase and sustain undergraduate and graduate Latinx students involved in environmental studies.
Alexandra holds a Bachelor's of Arts in Environmental Earth Science from the University of California, Berkeley. Throughout her career journey, she has been committed to helping first-generation, low-income students of color achieve their professional and academic goals.