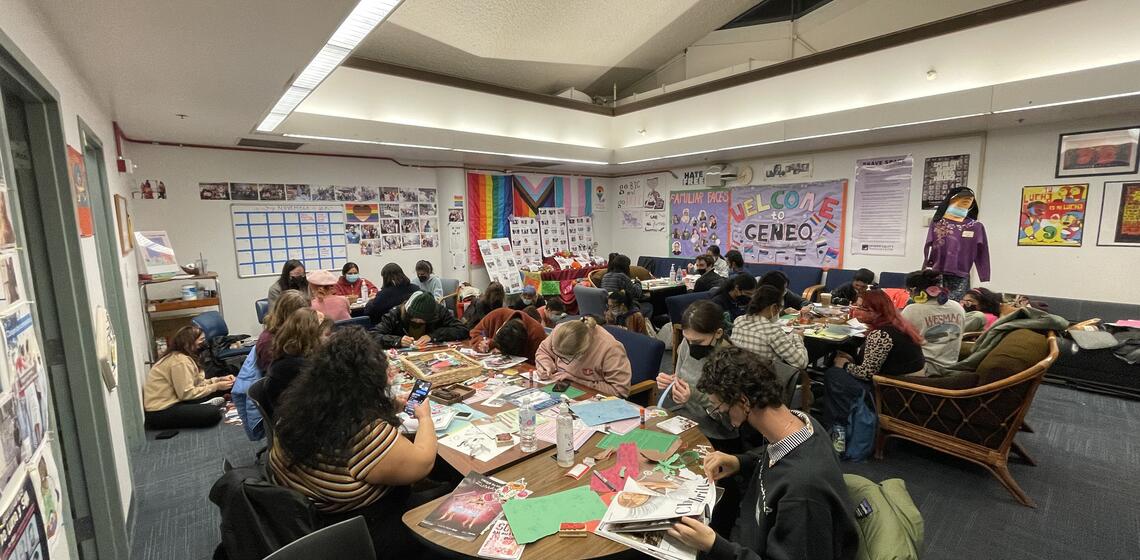 Community Zine Making Event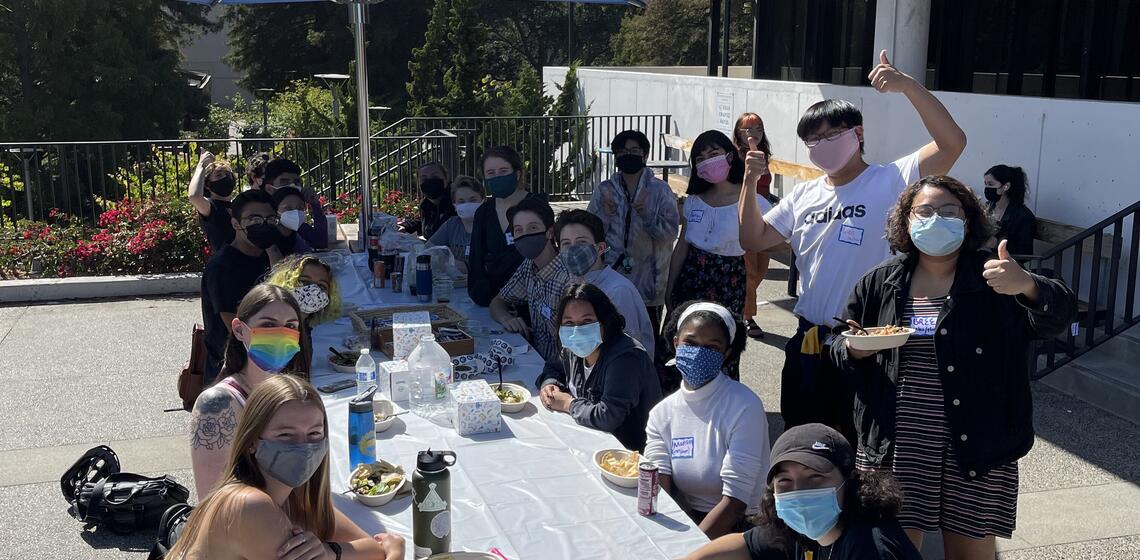 Queer Cal Pals Social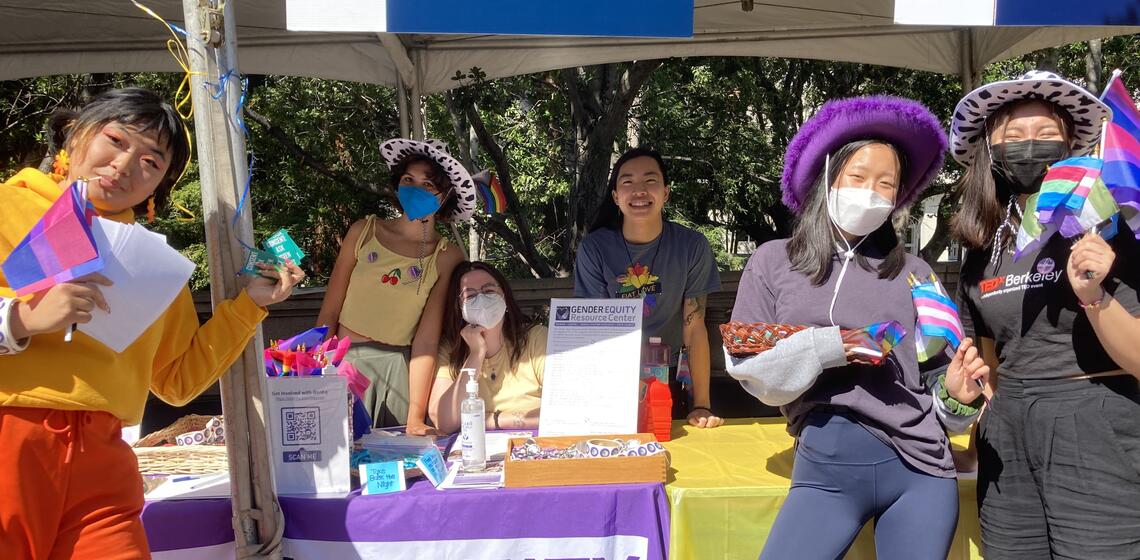 Cal Day 2022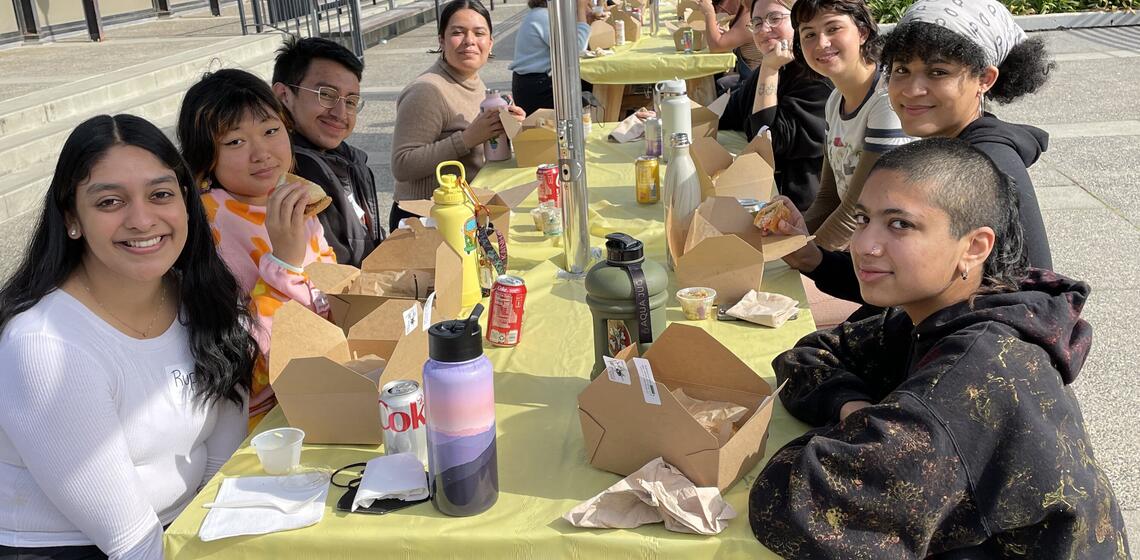 Intern Retreat Spring 2022
There are as many ways to get involved on campus as there are people!  We, of course, want you to be a part of the GenEq community and know that you may want to connect with other organizations/departments too!  Whether you're faculty, staff, undergrad, grad, postdoctoral scholar, librarian, visiting scholar or alum - find your way of connecting with GenEq and community!
Get Involved at GenEq
Look Left
Look at the menu on the left-hand side of this page for information on:
Events

Internships & Volunteering

Newsletter and Social Media
Advising & Support for Groups
GenEq provides advising to women- and LGBTQ+-focused campus organizations, which means you can come talk to a staff person about challenges you're experiencing in your organization, starting a new organization, how to take your organization to the next level, or any number of other questions that can come up through group participation and leadership.
Take Back the Night at Cal is a student-run evening of empowerment aimed at raising awareness and shattering the silence surrounding sexual violence, domestic violence, and rape affecting all genders and sexual orientations.  Take Back the Night is a program of the Gender Equity Resource Center that is planned by interns with the support of a planning committee.  To join the planning committee, keep your eye on our newsletter or Facebook group to receive information! 
V-Day at UC Berkeley is not only a cohort of Program Assistants at the Gender Equity Resource Center but also a group that puts on a benefit performance with original monologues written by UCB students. In 2019, Our Monologues raises money to end violence against people of all genders, but we are a movement on campus and in our community. To get involved, keep your eye on our newsletter or Facebook group to receive information about cast and crew auditions at the start of the Fall semester! 
Other Ways to Get Involved
The GenSex DeCal is a student-facilitated class that creates a safe space to encourage and facilitate the ability of students to learn about their bodies, explore their boundaries, desires, experiences and expand their understanding of power and privilege.  GenSex is formerly FemSex, a Student-Directed Collaborative Project at GenEq.
What kinds of community are you looking for?  Take a look at our listing of organizations and resources for the Cal community!
There are over 50 campus organizations and resources focused on issues affecting women at UC Berkeley.  Their foci range from academics to activism, from socials to service - take a look and see where you want to connect!


Faculty and Staff Involvement
GenEq is not just a resource for students - we are here to support all members of the UC Berkeley community!  If you're looking for LGBTQ+- or women-focused organizations, you can find them here:
Alum
Want to stay connected to GenEq, but not at the level of our Facebook group or weekly newsletter?  Supply us with your permanent email (e.g. not your bMail address) and we'll send you periodic updates about GenEq, the campus and how to reconnect with GenEq!