The following is a list (in no particular order) of various LGBTQ+ themed organizations and groups. This list is not exhaustive, nor is it always accurate due to the ebb and flow of student organizations, please click here to do a search of your own for student groups. Click here for more information on how to start your own student organization.  LGBTQ+ identified groups and leaders may seek advising with a GenEq staff person, see their contact information here. Lastly, there may be organizations that aren't registered with the school, so if you're looking for something in particular make sure to ask a staff person!
Quicklinks:  
Quick Resources for Students | Student Organizations & Groups
Faculty & Staff Groups | Campus-Wide | System-Wide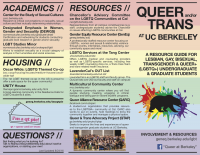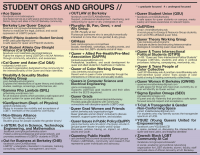 Download the "Queer and/or Trans at Berkeley" brochure here! (UNDER CONSTRUCTION)
Quick 
Resources
Lesbian, Gay, Bisexual, Transgender, and Queer + (LGBTQ+) Programs and Services
Em Huang, Director of LGBTQ+ Advancement & Equity, Gender Equity Resource Center
em.huang@berkeley.edu
202 Cesar Chavez Student Center #2440
QARC is an organization run by students. We aim to provide resources to individuals and organizations in the LGBTQ+ community here at Cal. In addition, we also work to put on events, hold meetings to bring the community together, and manage a student-led resource center on campus.
Counseling and Psychological Services (CAPS) provides individual counseling, group counseling, and urgent counseling on a walk-in basis. Whether or not you want to identify yourself as LGBTQ+ is completely up to you. A list of LGBTQ+-identified counseling staff is available at https://uhs.berkeley.edu/pride/counseling.
Social Services provides confidential services and counseling to help students with managing problems that can emerge from illness such as financial, academic, legal, family concerns, etc.
LGBTQ Health Education
2nd Floor Tang Center, Health Promotion, 2222 Bancroft Way
(510) 642-7202
The Health Promotion unit offers:
Sexual Orientation & Gender Advocacy
A Project of the Graduate Assembly
http://ga.berkeley.edu/project/soga/ | sogaga@berkeley.edu
The Queer and Transgender Advocacy Project seeks to improve the lives and experiences of queer and transgender graduate students at UC Berkeley. SOGA works closely with other GA projects to initiate outreach targeting graduate LGBTQ students at UC Berkeley. Additionally, this coordinator serves as an advocate for LGBTQ graduate students, addressing specific needs and concerns of the community to ensure their success in higher education and beyond.
Student Organizations and Groups
See below for a list of active student organizations!  This list was last updated August 24, 2016 and is accurate to the best of our knowledge - if you have more recent information about any of the below, or want to add your new organization, please email geneq@berkeley.edu!  To see a list of organizations that are currently inactive, click here. 
To find the meetings times and locations for the below organizations, please email them or check their organizational website/facebook page (hyperlinked in the group name)!
Additionally, you may want to look at these pages as well. While they're not student organizations, you may want to check out two LGBTQ+-focused residential communities, the Oscar Wilde LGBT-Themed Co-op and UNITY House, and various academic opportunities, as they are also nodes of community!
Undergraduate and Graduate Students
Ace Space is a resource for Aces, Demis, Grey-As and allies in the UC Berkeley community. For more information, please contact calacespace@gmail.com.
Graduate Students
Since its founding in 1978, the Queer Caucus has worked to eradicate the legal, political, and social oppression of LGBTQ people, and to provide an affirming, supportive base for students of diverse sexual orientations and gender identities. This mission is complimented by our commitment to intersectional work and coalition building with a broad spectrum of other student organizations and journals on campus. The Queer Caucus is comprised of lesbian, gay, bisexual, transgender, gender variant, queer law students and allies. We strive to provide social opportunities and support for our members, to develop an academic environment that supports queer scholarship, and to organize events relating to political, social, and legal issues affecting the queer community. In addition to maintaining a strong and visible community of LGBTQ students, the Queer Caucus works with LGBT attorneys at public interest organizations, private firms, and government agencies to create networks of support between Berkeley Law students and alumni. For more information, please contact caucus@law.berkeley.edu.
Undergraduate Students
biyuti is a program started in response to the growth of the sexual minority within the Pilipino community. It seeks to create a space without gender or sexuality borders. As one family, we seek to retain Pilipinos who identify as gay, lesbian, bi-sexual, transgender, queer or questioning. For more information, please contact gsac.pass@gmail.com.
Undergraduate Students
The Cal Student-Athlete Gay-Straight Alliance (SAGSA) aims to fight the stigma of being an out student-athlete in NCAA Division I athletics through community outreach, education and awareness. We welcome allies and out athletes to join in support.
Undergraduate and Graduate Students
Cal Q&A was founded a decade ago on the UC Berkeley campus as a student organization dedicated to the intersectionality of the Queer and Asian identities. Through weekly meetings, various monthly events, and our annual conference, Cal Q&A acts as a safe space, social group and support network for any and every student on the UC Berkeley campus. If you're new to the space or a returning member who wants to get more involved, sign up for the sib system!  For more information email calqanda@gmail.com.
Undergraduate Students
Gamma Rho Lambda strives to be both a traditional sorority and a queer organization–providing queer individuals and their allies a safe space in the Greek community.  As a queer organization, Gamma Rho Lambda participates in various queer events on campus and collaborates with with the queer organizations to host queer workshops and movie screenings.  As a sorority Gamma Rho Lambda exemplifies the four pillars of UC Berkeley's Greek Community: Scholarship, Leadership, Service, and Friendship through various activities.
Graduate Students
IGenSpectrum is a student group based in the UC Berkeley Department of Physics. The group's mission is to increase the visibility and acceptance of LGBT+ members of the academic community. For more information, subscribe to our mailing list visit our website, or email us at "igs@ocf.berkeley.edu".
Undergraduate and Graduate Students
Student group for people outside of the gender binary!
Undergraduate and Graduate Students 
We are the UC Berkeley chapter of the National oSTEM organization
Our aim is to unite LGBTQ+ students studying STEM to foster a strong professional and social network and to promote LGBTQ+ awareness within the academic and professional communities.

For more information see our website, Facebook page, or email us at ostem.berkeley@gmail.com.
Undergraduate Students
O4B develops, inspires, and connects the next generation of LGBT business professionals at UC Berkeley. O4B strives to foster diversity, inclusiveness, and a strong sense of community for LGBTQIA undergraduates interested in the fields of business, consulting, banking, marketing, management, and similar industries through developing, inspiring, and connecting the next generation of professionals. For more information email o4batberkeley@gmail.com.
Undergraduate Students
OUTLAW at Berkeley intends to provide a safe, supporting, and professional setting for queer, ally and any other student who are interested in law. OUTLAW strives to provide a safe, supporting, and professional setting for queer, ally and any other student who are interested in law as a possible career and desire to develop networks, mentorship, or gain educational support. The purpose(s) of this organization shall be to provide educational support, professional development, mentoring, and networking opportunities for queer or ally undergraduate students interested in law and related fields.
Undergraduate and Graduate Students
Plurality: California's first and only public school Plurisexual and Ally group. But whats a plurisexual? It is someone who is sexually/romantically interested in more than one sex/gender. Also known as a non-monosexual. Examples of plurisexual sexualities may identify as (but are not limited to) bisexual, pansexual, omnisexual, polysexual, heteroflexible, and homoflexible.
Graduate Students
Haas, like Berkeley and the greater Bay Area, is famous for its diverse, inclusive, and affirming spirit. We sponsor socials, educational panels, mentoring programs, workshops, recruiting events, alumni mixers, and so much more – for both LGBT students and the entire Haas community. For more information see their contact information page
Undergraduate and Graduate Students
A new student organization dedicated to the professional, academic, and social development of queer and allied students pursuing a future in healthcare or medicine.  Email berkeleyqappa@gmail.com with questions.
Graduate Students
The Queer of Color Working Group focuses on reading and sharing recent work in queer of color and transnational queer scholarship, and more broadly reading across the intersections of critical race and sexuality studies. To join the group mailing list or receive readings, email either facilitator at brandon.callender@berkeley.edu or cornejo@berkeley.edu.
Graduate Students
QICSE is the organization of queer graduate students in Computer Science and Electrical Engineering at the University of California at Berkeley. QICSE is a social group that supports gay, lesbian, bisexual, transgender, intersex, questioning, or queer grad students and their allies within the EECS department by offering them opportunities to connect to each other and with the broader campus community. See their website for contact information.
Graduate Students
The Cal Queer Grads association serves the LGBT graduate student population at Berkeley. We organize social events and other outings, advertise relevant local goings-on, and otherwise provide a base of support for the queer grad student community. Join our mailing list at!.
Graduate Students
QGW creates safe spaces for queer graduate women (trans*-inclusive) to discuss research, support queer activism, and socialize with one another.
Graduate Students
QuIPP provides a forum for discussion of policies having an impact on gay, lesbian, bisexual, and transgender adults and youth. The group meets monthly for topical discussion and social events. The group is open to all GSPP students. See their website for contact information.
Undergraduate and Graduate Students
The Queering Public Health group is a space formed in 2014 dedicated to fostering community for those who identify as lesbian, gay, bisexual, transgender, queer, questioning, intersex, allies, or other identities; creating a learning environment where students and faculty produce and share research that represents queer individuals and queers the norms of public health; and leading advocacy and service in the name of underrepresented individuals on our campus and in our broader communities. Email questions to lgbtq.sph@gmail.com.
Undergraduate and Graduate Students
QSA strives to provide a "safe space" where every individual can be free of harassment, discrimination, isolation, judgment, and/or violence that occur because of who they are. We will achieve these results by empowering and motivating students and student/community leaders to end inequalities that exist at Cal and in our society. For more information email qsuberkeley@gmail.com. 
Graduate Students
A Townsend Working Group at UC Berkeley for graduate students interested in deconstructing heteronormative ideologies and watching queer film. Email questions to ucbqueertheory@gmail.com.
Undergraduate and Graduate Students
QTIPS (Queer and Trans Intersectional Political Students) is a group at UC Berkeley that engages LGBTQIA+ students and allies in the political process through lobbying, campaigning, mentorship, and activism. Check their Facebook page for more info!
Queer and Trans People of Color Collective
Graduate Students
This space will be created in order to bring together self-identified Queer and/or Trans people of color in order to build a loving & healing community collectively.  Contact qtpocc@gmail.com.
Undergraduate and Graduate Students
A safe (and FUN) space for all who have ever, currently do, or will ever identify as Queer Womxn and their allies. Email queerwomxnatberkeley@gmail.com to get on the listserve, as well as learn about meeting times and social events!
Graduate Students
QuERGies is the student-led Energy & Resources Group (ERG) queer network. ERG is an interdisciplinary graduate program at UC Berkeley. QuERGies is a social group, focused on creating safe spaces for ERG students, alumni, ERG-affiliated queer folks, and their partners. For more information, you may contact quergies-owner@lists.berkeley.edu.
Undergraduate Students
To maintain a safe and empowering social space that promotes lifelong bonds through scholarship, community service, leadership, and engagement in both the Queer and Greek communities on campus for students with a diverse range of sexual orientations, gender identities, and socioeconomic backgrounds.  For more information, please contact info@sigmaepsilonomega.com.
Undergraduate and Graduate Students
T-Cal is a group that seeks to address the spectrum of gender and gender expression, especially for students, fauclty and staff who may identify across the transgender spectrum at UCB. Join us for conversation, community, and resources! For more information email tcalatberkeley@gmail.com .
Undergraduate and Graduate Students
YQUE! (Young Queers United for Empowerment) is a weekly meeting space centered on discussing the intersections of queer, Latinx, and Indigena identities. For more information, please contact yque.ucberkeley@gmail.com.
Undergraduate and Graduate Students
'Zawadi' is Swahili for 'gift.' This name was chosen in recognition of the fact that each of us is a precious gift to our families, our communities, and to the world. This group is a social, academic and political networking organization for LGBT and Same Gender Loving students, alumni, faculty, staff and post-docs of African Ancestry* at UC Berkeley. We are interested in increasing visibility and understanding of the Black LGBT experience at Cal (UCB) and beyond. Allies of African Ancestry Welcome. *African Ancestry (African American, Multi Racial, Afro Caribbean, Black, bi racial,….you get the picture…the diaspora)
Faculty & Staff
LavenderCal is an organization for lesbian, gay, bisexual, transgender, intersex and queer staff and faculty at UC Berkeley. We are a network for Cal's LGBTIQ staff and faculty, offering networking events throughout the year. Our goal is to promote the inclusion and well-being of our LGBTIQ employee community, and to establish a network for sharing resources and experiences on campus.
To All Transgender, Gender Non-Conforming, Genderqueer, Gender Questioning, Trans* Employees at UC Berkeley: we're excited to continue our lunches for transgender staff, faculty, librarians, academic researchers and postdoctoral and visiting scholars to build community on campus, talk about transgender-specific challenges and opportunities we experience on-campus, share resources... and just say hey. 
Campus Wide
The Chancellor's Advisory Committee on the Lesbian, Gay, Bisexual, Transgender and Queer (LGBTQ) Community at Cal is a standing committee reporting to the Chancellor, comprised of UC Berkeley staff, faculty, graduate and undergraduate students. To promote a tolerant and inclusive campus environment, the committee regularly identifies, analyzes, and advises the Chancellor and senior administration on needs and concerns of lesbian, gay, bisexual, transgender, intersex and queer faculty, staff, students, alumni, and affiliates at UC Berkeley. For more information, please contact cac_lgbt@berkeley.edu.
System Wide
The University of California Lesbian Gay Bisexual Transgender Intersex Association (UCLGBTIA) exists for the purpose of supporting and promoting the University of California community with respect to diverse sexual and/or gender orientations. The Association exists to create a positive environment conducive to the well-being of the members of the community. Membership of the UCLGBTIA includes, but is not limited to, faculty, graduate students, undergraduate students, staff, and alumni of the University of California campuses.
Currently Inactive Student Groups
Are you a South-Asian who is either questioning your sexuality or gender or identifies as an LGBTQIA person? We are a group of South Asians who are looking to create a safe, closed, secret and private space for South Asian queer and questioning folks to hang out. The space will be completely confidential and we have the utmost respect for your confidentiality. Please e-mail us at khush.berkeley@gmail.com if you are interested in attending our meetings, receiving more information, or have any questions, comments or suggestions!
Q-Jew is Berkeley Hillel's initiative to enhance the presence of Queer, Lesbian, Gay, Bisexual, Transgender, and Ally Jews on the Cal campus and within the Berkeley community. Q-Jew facilitates discussion and engagement of LGBTQ and Jewish identity through regular group meetings, events, and equality campaigns. Q-Jew is committed to maintaining a safe space for the LGBTQ community within Judaism and strives to "queer" the Jewish community as it exists in Berkeley. Q-Jew is a member of the Jewish Student Union and of QARC, Queer Alliance Resource Center. See their website for contact information.
Queer Continuum
The Queer Continuum is a caucus of the Social Welfare Graduate Assembly (S.W.G.A.) Graduate students at the School of Social Welfare created Queer Continuum to organize social events as well as panel discussions, workshops, and advocacy around queer issues.
Queer Diversions is a queer social group open to all. Activities include: Hiking, Outdoor Games, Movies, Parties, Board Games, Camping, Party Games, City Trips, and many other things.  Queer Diversions is currently inactive.
SNAPS: A Queer People of Color Space
We unite ourselves with one rainbow flag- a symbol for communal unity, yet all too often we neglect the individuals that come together to form that one symbol. As a community we find empowerment through unity, but at what cost? The amazing diversity here at Cal allows for everyone to bring their own individual perspective to the table, but very often we don't feel welcome to dinner. "There is no racism in the queer community" is a frequent dismissal to us, a denial of the basic fact that we are a very diverse and heterogeneous community that finds commonality in identifying with queer issues. Queer People of Color aims to acknowledge our community's immense diversity. Let's find empowerment as individuals and as a community. Let's work towards a community that lives up to our pre-college expectations that were more often than not, disappointed by the time we got here... it is time for queer people of color to be acknowledged and recognized... this is OUR opportunity to stand up and be heard.
Student Coalition for Marriage Equality began as an organization committed to gaining equal marriage rights for same sex couples. Our mission has grown since our founding and we now engage the entire campus in the fight for a number of rights of the queer community--from the right to give life at blood drives to the right to have bully-free schools. To increase visibility and awareness of issues facing the queer community as well as to work toward a more equitable America, SCME holds a number of marriage demonstrations, fundraisers, campaigning events, and social gatherings throughout the year. E-mail us at calscme@gmail.com or check out our blog at CalSCME.blogspot.com to learn more about how you can get involved in the fight for equal rights.
Trans*Action is a student run collaborative organization that works to increase equity, inclusion, and awareness of transgender and gender non-conforming identified students on campus. For more information email trans.actionberkeley@gmail.com.
The Queer Straight Alliance (QSA) will host the two day YLEAD camp for high school aged queer and ally youth to visit the UC Berkeley campus and to learn the skills necessary to become better leaders. YLEAD strives to empower, educate, and inspire queer and ally youth, while promoting higher education and youth activism. For more information, please contact calylead@gmail.com.