On Campus Resources
Students at UC Berkeley are required to have health insurance. Students may use the University's student health insurance program (SHIP) or their own private insurance if it qualifies. 
University Health Services (UHS) at the Tang Center provides comprehensive medical care, counseling, health promotion, and public health services to Berkeley students, and several other local institutions. UHS also provides occupational health services to faculty and staff. The Tang Center provides many resources and links to information about services both on and off campus. You can search various topics on their website to get more information.
**Click here to see Tang's Pride Portal, a comprehensive guide to LGBTQ services at the Tang Center.**
If you are a Student Parent get information about Health Benefits for Dependents of Students. Please also see our page dedicated to Students with Families and Dependents.
Counselors with an LGBTQ Focus
On the Social Services website and the Counseling and Psychological Services websites you can find a list of counelors and their areas of interest.  Take a look at the list to see who lists LGBTQ/sexual orientation/gender identity topics, and any other areas that are important to you!
While all UHS counselors have training and experience working with LGBTQ+ students, sometimes it's important to know your counselor is queer-identified.  
A peer-facilitated support group for Queer and Trans undergraduate and graduate students in/seeking recovery, practicing harm reduction, struggling with substance use or anything in between, hosted as a collaboration between the Collegiate Recovery Program and GenEq. Potential topics include moderating use, responding to triggers, exploring alternate coping strategies, identity and substance use, navigating relationships and more. All are welcome.

Every Thursday from 5-6pm on Zoom, starting on August 3rd, 2023. Please register using the form tinyurl.com/qtgroup.
SHEP is a group of trained student peer educators who promote sexual health at Cal by providing accurate, nonjudgmental information. Our mission is to empower students to feel comfortable with their bodies and make informed decisions about their sexuality, including whether or not to be sexually active.
Doxy PEP Information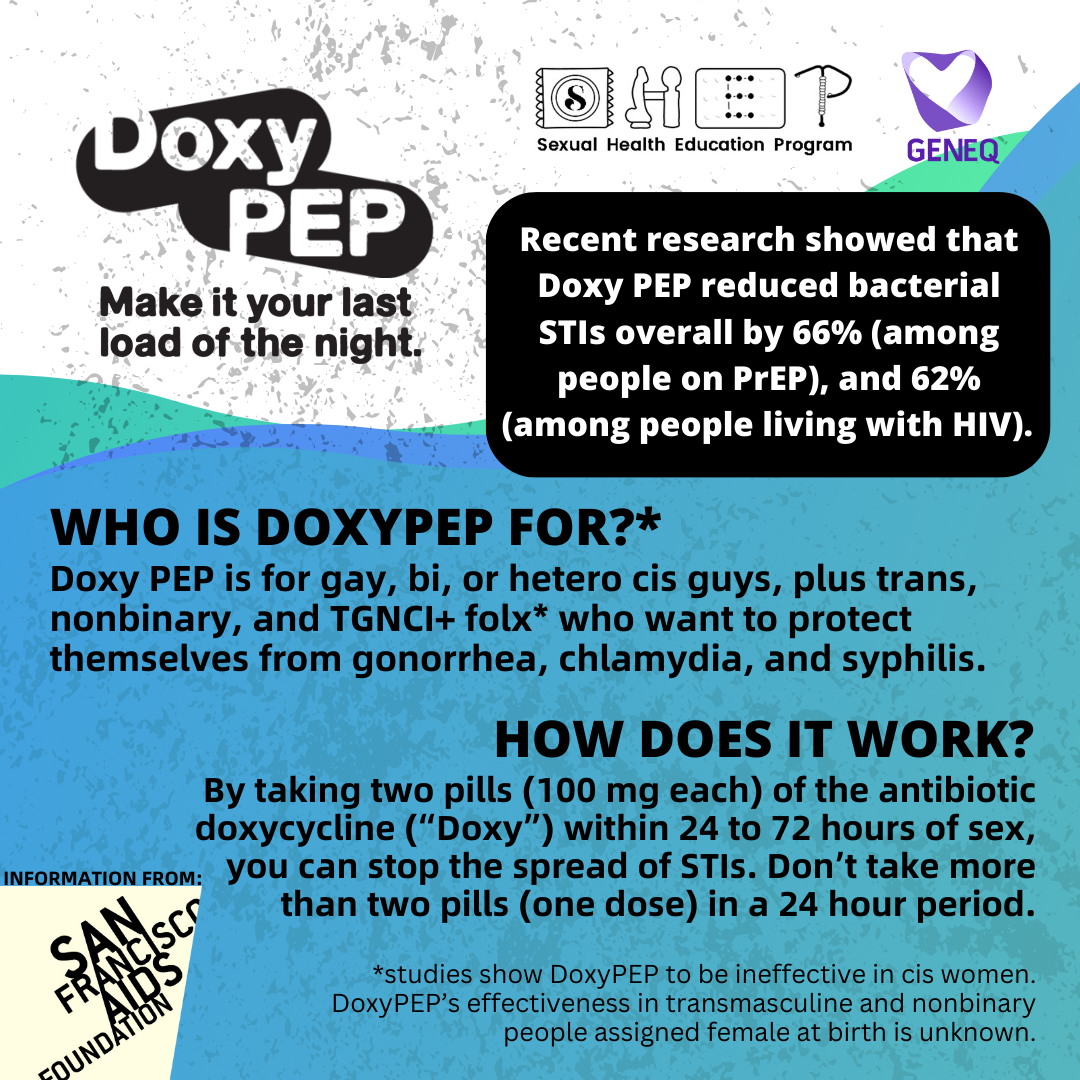 Recent research showed that Doxy PEP reduced bacterial STIs overall by 66% (among people on PrEP), and 62% (among people living with HIV).
Who is DoxyPEP for?
Doxy PEP is for gay, bi, or hetero cis guys, plus trans, non-binary, and TGNCI+ folx* who want to protect themselves from gonorrhea, chlamydia, and syphilis.
How does it work?
By taking two pills (100 mg each) of the antibiotic doxycycline ("Doxy") within 24 to 72 hours of sex, you can stop the spread of STIs. Don't take more than two pills (one dose) in a 24 hour period.
HOW do I get it?
It's a generic medication that costs less than $20/bottle.
People in San Francisco can get Doxy PEP at San Francisco City Clinic
Others can get Doxy PEP from their healthcare providers.
Other Resources
This site provides helpful information and resources regarding the HIV virus. On their site you can find:
The first steps to take if you've just tested HIV positive. What to do if you're worried about getting HIV.
News and opinion about HIV politics, health care and more.
Every copy of their magazine since it first launched in 1994.
All about HIV treatment.
Community connections for chatting, dating and finding services.
Safer sex for people with HIV.
Person-to-person support.
The University of California, San Francisco (UCSF) has various resources focused around LGBT health.
Our services include providing direct client services to LGBT people with cancer, providing health education and workshops to the community, and educating health care professionals about the unique health needs of the LGBT community.
This publication from the Suicide Prevention Resource Center includes recommendations on how to reduce LGBT suicidal behavior, a resource appendix and bibliography.
The Coalition is committed to improving the health and well-being of lesbian, gay, bisexual, and transgender individuals through federal advocacy that is focused on research, policy, education, and training.
The LGBT community includes individuals of every sexual orientation, gender, gender identity, race, ethnicity, and age; regardless of disability, income, education, and geography. Our members are dedicated to effecting change by uniting this rich diversity at the national level.