There are many ways to get involved at GenEq!  In addition to the below opportunities, don't forget to attend GenEq Events and to check out our Community Space!  Join our newsletter listserv to get updates about internships, events and other GenEq-related opportunities!

Follow us on Instagram @UCBGenEq, like our Facebook page and join our facebook groups: Gender Equity Resource Center and Volunteers at GenEq.
Internships | Volunteering | Other Opportunities
Internships
HIRING NOW! Cal Self Defense for All (CSDA) Graduate Assistant & Undergraduate Program Assistants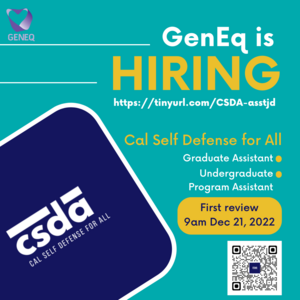 We are looking for enthusiastic and experienced students who are committed to issues of social justice and motivated to make social change within our communities to be a part of our internship program! Below is brief information about each position, please read through the full position descriptions before applying! Interns should be prepared to work remotely and in person.
How & When To Apply
Currently we are only looking for a currently enrolled UC Berkeley students to serve as Cal Self-Defense for All (CSDA) Graduate Assistant & Undergraduate Program Assistant. Applications accepted on a rolling basis until filled, first review is 9am on Dec. 21, 2022. Zoom interview dates will scheduled for January 9-13, 2023
Job description and application avaiable at https://tinyurl.com/CSDA-asstjd.
Volunteer
We are always looking for students, staff and faculty who are willing to volunteer! Volunteering can include:
Special Tasks: We need help with periodic tasks, such as button-making, preparing displays, and organizational tasks.
Outreach Assistance: The students, faculty and staff who can benefit from GenEq's programs and services all over campus, and we need help to spread the word.  This includes help posting flyers around campus, tabling on Sproul, making announcements about GenEq to classes and groups, and more.
Event Day-of Support: Interns need help the day of events to make sure that everything goes smoothly, including decoration, transporting materials to the event venue, and staffing the sign-in table.
Event Planning Collaboration & Support: Interns will also be looking for reliable volunteers who can collaborate and/or help with the event planning process - depending on the particular event.
The best was to learn about these opportunities is to join the Facebook group "Volunteers@GenEq" or join the GenEq Volunteers listserv which both receive the same information about our volunteer opportunities.
If you have questions about internships and volunteering, please contact Joanna Villegas at joannavillegas@berkeley.edu 
On-Campus & Off-Campus Internships, Jobs, and Volunteer Opportunities
Keep your eye on the weekly GenEq Newsletter to hear about volunteer and internship opportunities at other organizations both on- and off-campus and join the GenEq Newsletter listserv. Also, check out our Get Connected page!