WHAT IS NoCR?
In a desire to commemorate the spirit of resistance and cross-cultural collaboration that fueled the student struggles of 1969 and 1999, Cross Cultural Student Development (CCSD) and the Third World Liberation Front (twLF) created the Night of Cultural Resistance (NoCR), an annual tradition started sixteen years ago. Multicultural events on this campus are often notorious for being reduced to food, music and dance, without an attempt to create a cross-cultural understanding of a shared hxstory of struggle that informs multi-cultural movements for liberation and equal rights. NoCR, was created with the hope of uniting peoples of all races, cultures, nation, religions, abilities and sexual orientations through a multicultural perspective and understanding. Artists, musicians, writers, activists, students and communtiy members come together to celebrate the many hxstories, stories, traditions, and cultural and artistic expressions that together create a multicultural vision of struggle and liberation.
Every year NoCR features live performances, art making, skills sharing, food, and various other activities to celebrate our resilience and honor the ways in which communities of color continute to resist and flourish within the university. NoCR is more than a concert or a show, it is an opportunity for communities on and off campus to come together and share stories, skills and resources.
WHAT IS WoCR?
Aspiring to honor to the fullest, communities of color and their resistance and resilience, the Week of Cultural Resistance (WoCR) was started in 2013. In order to capture the spirit of generations of hxstory making past and present, WoCR extends NoCR into an entire week of events of celebration, creation, healing, and remembering hosted by a variety of folks from community on and off campus. From exploring the "Intersections of Womynhood and Body Image" with Phi Nu Xi to commemorating "A People's History of Music in the United States with Las Cafeteras, WoCR pays tribute to the work of grassroots organizers shaping multi-cultural movements for liberation and equal rights today.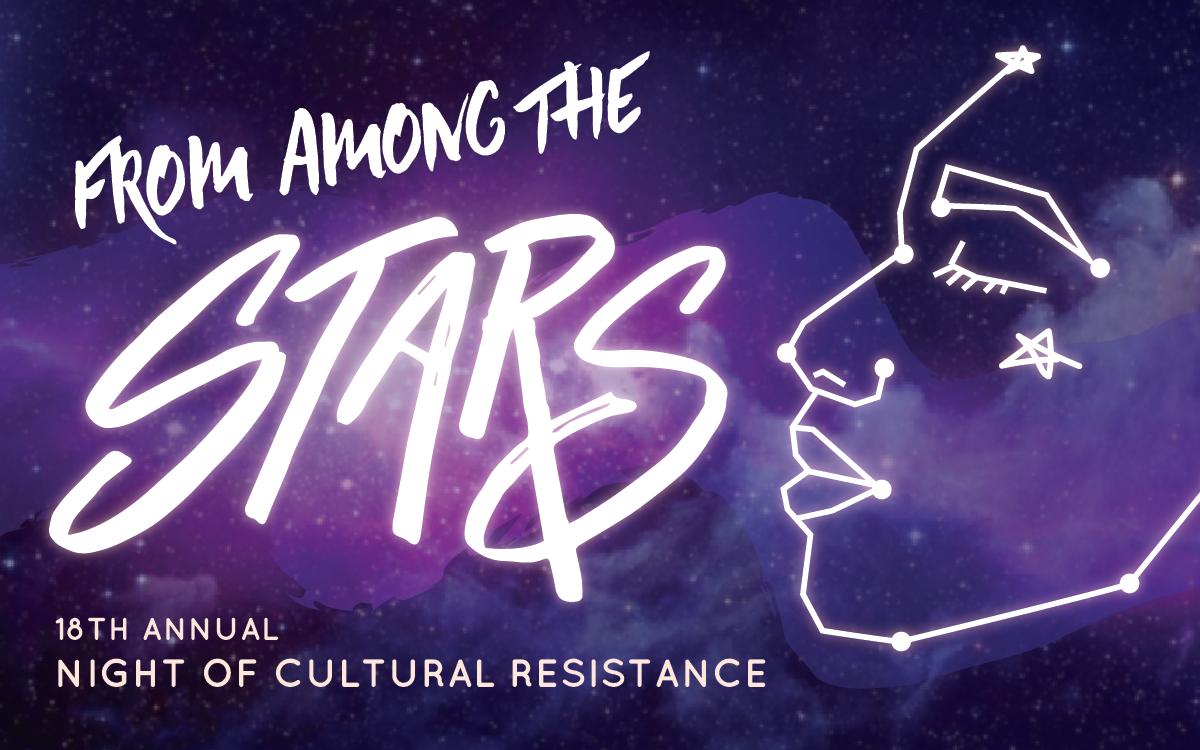 NoCR 2018
The Multicultural Community Center presents "From Among the Stars" our 7th annual Week and 18th annual Night of Cultural Resistance theme. 
From Among the Stars -- this year's WoCR/NoCR theme -- is an invitation to honor and embody the legacies of generations that lend us energy to thrive today.
Inspired by Octavia Butler, we acknowledge the power and necessity of imagination as a strategy for survival and liberation. As we move in these turbulent times, we look to the skies and remember the celestial origins that connect us. They guide our collective journeys. Borne of stardust, we are developing our awareness of our interconnected destinies to better understand who we are and who we can be, what we've done and what we can do.
We are looking back to rise above and transcend, and we invite you to reimagine & bring forth new worlds with us.
Monday, March 12, 6:30-8:30pm
All the Stars are Closer
Hosted by MCC
Everyone's creation story offers a glimpse of who people are and who they come from, and who they can be. Drawing from our theme, From Among the Stars, this workshop invites you to co-create a futurity as we find place in the sky. All the Stars are Closer encourages us to think more intimately about what skies mean to us, what they hold for us, and what they reveal to us. Through a participatory art making process, we hope this space serves as a reminder of our own light and how bright it is. In this spirit, we will also be honoring Norouz(نوروز), the solar new year. Celebrated on the spring equinox by peoples across Southwest and Central Asia, Norouz honors renewal, a new beginning, a, chance to put the past
 behind. 

As part of the celebration, families put together a tabletop arrangement, known as the "Haft-Sin" or the "7 S's" and every object symbolizes a component of renewal and self-reflection into the new year. The seven items include: "sabzeh" / wheat sprouts, "samanu" / sweet pudding, "senjed" / dried jojoba fruit, "seer" / garlic, "seeb" / apple, "somaq" / sumac, "serkeh" / vinegar. Along with the seven items others such as coins, hyacinth flowers, a mirror, candles, goldfish, and painted eggs are also included on the table. All of these items represent renewal, rebirth, and a new start that is full of sweetness, health, wealth, and happiness. Families come together every year to put the haft-sin together and this year as part of the WoCR, we will be coming together as a community to collectively make the "haft-sin," paint eggs together and talk about the meaning and the celebration of Norouz.


Tuesday, March 13, 12-2pm
Black./Womyn: Conversations with Lesbians of African Descent
Hosted by Kerby Lynch
Join us for a lunchtime film screening of "Black Womyn," a documentary made by a former graduate student. Facilitated by Kerby Lynch (Black Lesbian Geographies), the discussion will focus on Black lesbian existence and its contribution to global liberation.
A little bit more about the film: "Black Womyn" features interviews with close to 50 out, Black lesbians including Poet/Author Cheryl Clarke, Filmmaker/Activist Aishah Shahidah Simmons, Poet/Author Staceyann Chin, Filmmaker Michelle Parkerson, Hip-Hop Duo KIN, and Author Fiona Zedde. This film encourages progressive dialogue about images of Black lesbians and the stereotypes resulting from their portrayal in media and society at large. The director's goal was to create conversation among Black lesbians of differing ages, backgrounds about the lack of communication among these groups and how this affects the overall unity of Black lesbians as a group.

Tuesday, March 13, 5-7pm
Preserving Our Energies Self-Care 101
Hosted by Brittney Enin
Want to be able to take care of yourself, but feel like there is no other way to engage with that being a Berkeley student? Need more tools to deal with the hostility of the political climate at this time? Drawing from our theme, From Among the Stars, this workshop invites you to reignite and empower the energies within us. Preserving our Energies: Self Care 101 will go through tangible tips and practices, faciltated by Brittney Enin, followed by a group reflection and discussion. This year as a part of WoCR, we will be coming together to explore what it takes to take care of yourself within a NUCLEAR HOT campus climate that is disinvested from our well-being as melanated, marginalized peoples.
Wednesday, March 14, 2-4pm
Revolutions: Reimagining Research
Hosted by MCC Library and Undergraduate Researchers of Color (UROC)
This workshop is interested in using shared research skills, tools and resources to support resistance struggles within the academy but most importantly, outside! The goal is to facilitate open dialogue and skill-sharing that supports building an interconnected and empowered community. The questions that the workshop will work through are: How can research be used in service of resistance and justice? What kinds of tools and information do we need in order to effectively resist the many forms of oppression we face in this political moment and to envision and build a world that allows our communities to thrive?
Our very own Ethnic Studies Librarian, Sine Hwang Jenson, and Co-Director of Underrepresented Students of Color (UROC), Istifaa Ahmed, will be co-facilitating this workshop. Food will be provided by Racha's Cafe! This event is open to everyone, especially to off campus communities!


Wednesday, March 14, 5-7pm
Open Hearts, Open Tables
Hosted by Uriel Rivera
Open hearts and Open tables: An introduction to analog vinyl mixing provides an opportunity to use music as an universal language. This workshop aims to create space for both learning and celebration of our diverse cultural heritages. Either through dancing to slow soul music, or funky afrobeats, this workshop is an open invitation to remind ourselves that the music of our communities is in tune with the wavelengths of the universe. We welcome everyone to bring their own vinyls and music, but we request that any music brought in falls within our core values: student-led, social justice, anti-oppression, cross-cultural understanding/solidarity, popular education, and sustainability and wellness.


Thursday, March 15, 1:30-3:30pm
Capturing hte Cosmos: Upcycling Clothing and Light Photography
Hosted by Michelle Gonzalez and Melissa Octaviano
An upcycling clothing workshop celebrating creativity, imagination, and all types of bodies and identities. The idea of upcycling comes from sustainability and wellness to re-use and re-purpose clothing. This workshop will give folks the space and materials needed to re-create and re-imagine their pieces. The workshop will also include painting, cutting, and drawing on recycled pieces of clothing celebrating all types of bodies. A dialogue will be held during the event about where we see fashion and clothing evolving over time and how we can take older pieces of clothing and re-imagine them, the same way we can re-imagine our world in the future. 
This event will happen concurrently with the light photography 
workshop hosted by the MCC Art Collective, in one of the side rooms. It will be a workshop where folks will have the opportunity to create their light photography through light painting techniques using the camera and different lights (xmas lights, flashlights, etc.) The goals for this event is for folks to have a space of creativity through the means of photography and create something that they can take with them. The intention behind the workshop is to share skills to show that you don't really need a lot of materials to get creative, especially in the world of photography.

Thursday, March 14, 5-7pm
Cosmic Babes: QT Cosmetic Creations
Hosted by Pablo Jimenez and Claudia Morales Barrera
The aim of this workshop is to provide a space for Queer and/or Trans youth and POC where we can engage in dialogue and practices surrounding make-up, creativity, and self-expression. As well as to provide free make-up to communities that disproportionately do not have access to acquiring or utilizing cosmetics. We will share tips and knowledge about applying make-up but most importantly sharing how make-up has been used as a form of resistance, community building and empowerment for communities of color. You do not need to have experience with make-up to attend!


Friday, March 16, 5-9pm
From Among the Stars - 18th Annual Night of Cultural Resistance
The Multicultural Community Center and Cross Cultural Student Development Office invite you to our 18th Annual Night of Cultural Resistance. We are so excited to host this beautiful event in our space again in the MLK Jr. Student Union! Join us in celebrating and honoring the legacies and generations of students and activists before us.