We are excited to announce the 29th Asian/Pacific Islander Issues Conference (APIICON) happening at UC Berkeley on Saturday, March 7th. Since 1990, APIICON has been a critical space for students, professors, and community members to dialogue about the pressing issues within the Asian/Pacific Islander community and to generate shared solutions. The ultimate goal of APIICON is to educate, empower, and organize our community.
Where: Hearst Field Annex
When: March 7th, 2020 check in at 9:30AM - 10:00AM
This year's theme is Breakdown and Rebuild: Creating Sustainable Foundations.
As Asian Pacific Islanders (APIs) living in the United States, our people have endured generations of discrimination and prejudice in an attempt to destroy and disempower our communities. With this year's theme, we are inviting attendees to breakdown our understandings of the API experience - unraveling the systemic barriers that deny us our hxstory and access to resources - while exploring opportunities to rebuild our visions for community rooted in our collective liberation. We ask attendees to imagine what it would be like to create the sustainable foundations that will ensure our healing and flourishing for generations to come.
To RSVP, visit: biolinky.co/apiicon2020 (link is external)
Interested in getting involved?
You can volunteer, host a workshop, host a table, or submit art at biolinky.co/apiicon2020 (link is external) as well!
APIICON 2020 Keynote Speakers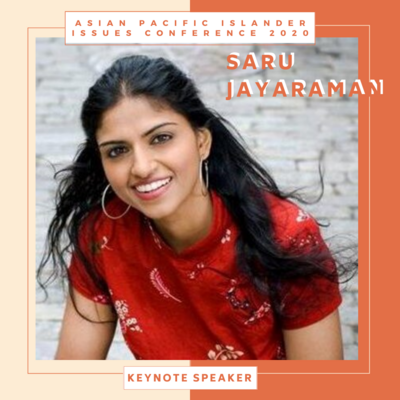 Saru Jayaraman is the Co-Founder/President of Restaurant Opportunities Centers United, a national restaurant worker advocacy group, and Director of the Food Labor Research Center at UC Berkeley. She co-founded ROC after 9/11, along with displaced World Trade Center workers, which now has over 18,000 worker members, 200 employer partners, and several thousand consumer members nationwide. She was listed in CNN's "Top 10 Visionary Women" and recognized as a Champion of Change by the White House in 2014, and a James Beard Foundation Leadership Award in 2015. Saru authored Behind the Kitchen Door (Cornell University Press, 2013), a national bestseller, and has appeared on CNN with Soledad O'Brien, Bill Moyers Journal on PBS, Melissa Harris Perry and UP with Chris Hayes on MSNBC, Real Time with Bill Maher on HBO, the Today Show, and NBC Nightly News with Brian Williams.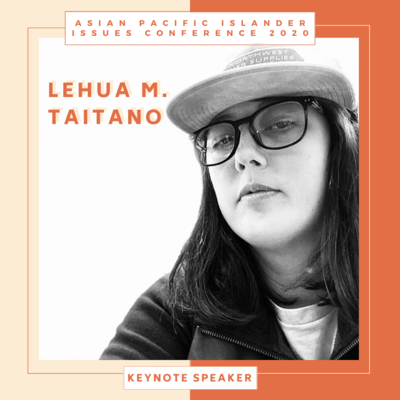 Lehua M. Taitano is a queer, award-winning CHamoru writer and interdisciplinary artist from Yigu, Guåhan (Guam), and co-founder of Art 25: Art in the Twenty-Fifth Century. Her works include two volumes of poetry—Inside Me an Island and A Bell Made of Stones— Merriam-Frontier Award-winning chapbook appalachiapacific, and her Pushcart Prize-nominated fiction have appeared in Poetry, Fence, Arc Poetry Magazine, Kartika Review, Red Ink International Journal, and others. She is the recipient of a 2019 Eliza So Fellowship and the 2019 Summer Poet-in-Residence at The Poetry Center at The University of Arizona. She has served as an APAture Featured Literary Artist via Kearny Street Workshop, a Kuwentuhan poet via The Poetry Center at SFSU, and as a Culture Lab visual artist and curatorial advisor for the Smithsonian Institute's Asian Pacific American Center. Taitano's work investigates modern indigeneity, decolonization, and cultural identity in the context of diaspora.