Spring 2022 Lavender Graduation Reminder  
Please register at tinyurl.com/LavGrad22Registration as this form will direct you to the waitlist. 
Those who register now will be forwarded to the waitlist and will still receive a rainbow cord or tassel but will not have their names in the program. 
Spring 2022 Lavender Graduation Speaker Information
This year, Lavender Graduation has two wonderful speakers. Their information is as follows. 
Courtney Desiree Morris
Courtney Desiree Morris is a visual/conceptual artist and an assistant professor of Gender and Women's Studies at the University of California, Berkeley. 
She teaches courses on critical race theory, feminist theory, black social movements in the Americas, women's social movements in Latin America and the Caribbean, as well as race and environmental politics in the African Diaspora. She is a social anthropologist and is currently completing a book entitled To Defend this Sunrise: Black Women's Activism and the Geography of Race in Nicaragua, which examines how black women activists have resisted historical and contemporary patterns of racialized state violence, economic exclusion, territorial dispossession, and political repression from the 19th century to the present. Her work has been published in American Anthropologist, the Bulletin of Latin American Research, the Journal of Women, Gender, and Families of Color, make/shift: feminisms in motion, and Asterix.
As an artist, her work examines the complexities of place, ecology, memory, and the constant search for "home." Her work is concerned with understanding the ways that we inhabit place – through migration, ancestry, and shared social memory -- and how places inhabit us. This interplay between landscapes and human subjectivity is evident in the ways that she uses her own body as a staging ground for re-membering her families' experiences of loss, dispossession and the persistent struggle to make a place for oneself in the world. She examines these questions through the experiences of female ancestors and elders whose stories are often disappeared in family histories and official historical narratives.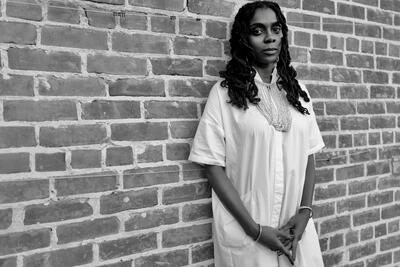 Ken Harper
Born and raised in San Francisco, Ken Harper is an enrolled member of the Cherokee Nation, one of the three federally  recognized Cherokee tribes and Spokeperson for the Cherokee Society of the Greater Bay Area, an official Satelite community of Cherokee Nation citizens. Ken works at Genentech where he  founded and chairs, gNA, Genentech Native Americans.  Prior to Genentech, Ken worked in nonprofit administration for 13 years in the areas of fiscal sponsorship, grant research, contract management and human resources. Ken began his nonprofit career working in San Francisco Bay Area's HIV/AIDS activist community-based organizations including the Native American AIDS Project, the National Task Force on AIDS Prevention, Project Open Hand, the National Native American AIDS Prevention Center and the San Francisco Study Center.  Ken is a founding member of the Bay Area American Indian Two-Spirits, the drafter of its incorporation papers and writer of its first grants to fund its office and activities from 1998- 2006. Ken performs as a  member of the acclaimed Two-Spirit Performance ensemble, The Brush Arbor Gurlz. He has been an American Indian and Two-Spirit /HIV Activist since the early 1990s. While at Cal, Ken was active in the MBLGA, the MultiCutural Bisexual Lesbian Gay Alliance, Organized the Monthly Gay Men's Social and Intretribal Student Council.  Ken comes from a family that has been at the forefront of American Indian, Civil and Human Rights issues. In his spare time, Ken enjoys cooking and just prior to the pandemic, placed 3rd in a Global Culinary Contest in Macau focusing on traditional Macanese cuisine. Ken's community organizing has been recognized by the San Francisco Board of Supervisors and the California State Legislative Assembly.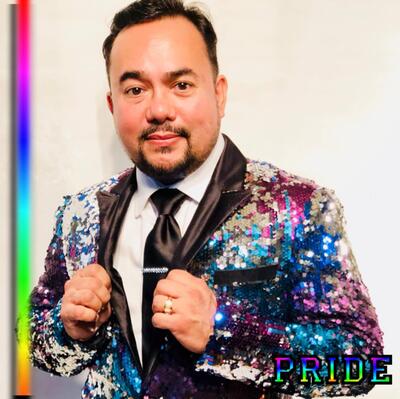 Spring 2022 Lavender Graduation 
Friday, May 6, 2022, 6pm
Alumni House (1 Alumni House, Berkeley, CA 94720)
To register for Spring 2022's Lavender Graduation, graduates and guests must register at tinyurl.com/LavGrad22Registration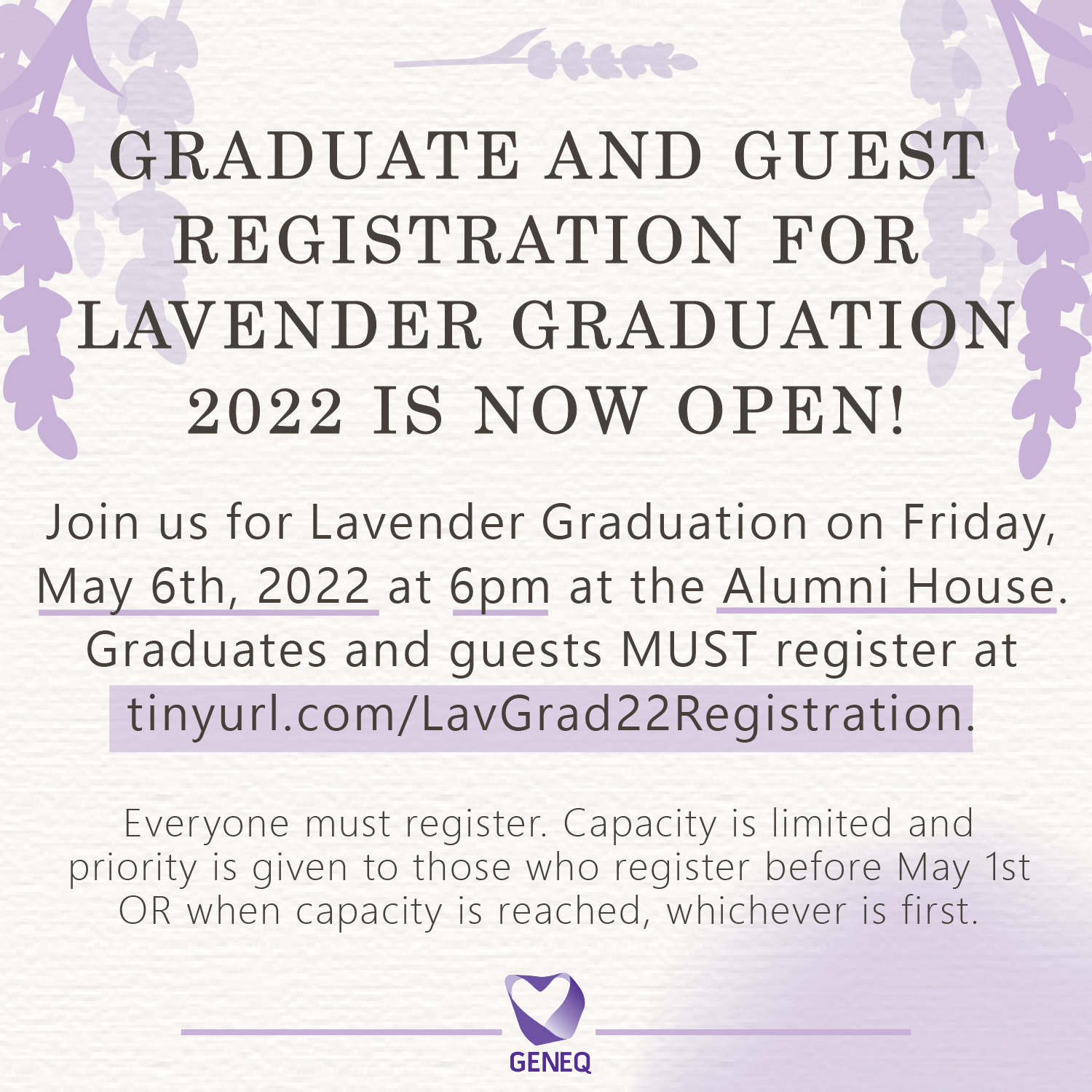 Spring 2022 Student Speaker Information
Undergraduate and Graduate Students are invited to nominate a peer or apply for one of the student speaker slots at this year's LGBTQ+ graduation celebration held on Friday May 6th 2022 at 6pm at the Alumni House. 
Nominate or apply here: tinyurl.com/LavGrad22Speaker
Applications are due on April 11th and applicants will be notified the following week.
_______________________________________________________________________________________
Past Lavender Grad Information
19th Annual Lavender Graduation
Friday, May 3th, 2019
Reception: 6:15-6:30 PM
Ceremony: 6:30-8:30 PM
Alumni House (1 Alumni House, Berkeley, CA 94720)
The Gender Equity Resource Center and our partners are excited to invite you to the 18th annual Lavender Graduation Celebration! Lavender Graduation, now in its 19th year, is the UCB end of year celebration honoring UC Berkeley's lesbian, gay, bisexual, transgender, non-binary, intersex and queer graduating seniors, graduate students and allies. Everyone is invited to attend and celebrate the end of the academic journey at Cal.
Please fill out the registration form, see below, before  Tuesday, April 30th, 2018 at Noon (or whenever we reach capacity, whichever comes first), to let us know you are attending.  It is particularly important for us to know the number of graduates so we may have a count for the rainbow tassels, your name will not appear on the program if you fill out the registration form after April 30th.  
All graduates and guests must complete the registration form.  Please NO Caps and Gowns. Save those for university and department graduations.
Keynote Speaker: Honey Mahogany, MSW 2009

A drag queen, business owner, and activist born and raised in San Francisco, Honey first gained international attention as a cast member on Season 5 of RuPaul's Drag Race. Since then, Honey has been named SF's best drag queen & cabaret performer by both the Bay Area Reporter & SF Weekly, and become a sought after emcee across the globe. Honey's more recent endeavors fuze art with the political. Her work has earned her commendations from the San Francisco Board of Supervisors; Sainthood from the Sisters of Perpetual Indulgence; awards from the Harvey Milk LGBTQ Democratic Club, the San Francisco Young Democrats, Trans Day of Visibility, and more; as well as earned her a spot on the YBCA 100 list of influencers from across the globe. Honey is a founder of the Compton's Transgender Cultural District, a sitting member of the San Francisco Democratic County Central Committee, co-owner of the Stud - San Francisco's oldest LGBTQ bar - and currently works as a legislative aide to Supervisor Matt Haney.

During her time at UC Berkeley, Honey was a TPA for Unity House Theme Program (2007-2009) and brought back the Drag Show after a long hiatus. She graduated in 2009 with an MSW and a concentration in Management and Planning. She also received the Award for Excellence in Field Work at graduation.
Seeking Undergraduate and Graduate Student Lavender Graduation Speakers:
Undergraduate and Graduate Students are invited to apply for one of the 3 student speaker slots at this year's LGBTQ+ graduation celebration .
Eligibility: UCB Undergraduate or Graduate Students who will be on the degree list for either spring, summer or fall 2019 or who graduated December 2018.
Application For Student Speakers 
Up to 3 speakers will be chosen with at least one speaker being a graduate student (masters, doctorate, professional degree). The selection of students will be based on their service within the campus or off campus LGBTQ+ communities, and who have a cogent, engaging and inspirational story or message to their fellow graduates. We value a diversity of speakers and Cal LGBTQ+ experiences and thus encourage students from various parts of campus to apply. Please prepare your remarks to be no longer than 5-8 mins.
Each speaker will receive a Cal Rainbow Graduation Stole in addition to the Rainbow Tassel all graduates receive.
Deadline to apply for student speaker is : Wednesday April 17, 2019, 11:59PM
If you have any questions, please contact Billy Curtis at billyc@berkeley.edu or call (510) 643-0788
Past Keynote Speakers:
2019: Honey Mahogany, Drag Proformer, Activist, 

founder of the Compton's Transgender Cultural District

2018: John A. Pérez, Chair UC Board of Regents
2017: Xamuel Bañales Ph.D, Assistant Professor of Ethnic Studies, CSU Stanislaus
2016: Alex Randolph (Board of Trustees, City College of San Francisco)
2015: Cara Stanley, M.A. (Director, Student Learning Center, UC Berkeley)
2014: Rafael Mandelman (Board of Trustees, City College of San Francisco)
2013: John A. Pérez (California Speaker of the Assembly)
2012: Judy Appel (Executive Director, Our Family Coalition)
2011: George Zamora (Policy and Program Analyst, Student Affairs, UC Office of the President)
2010: Christopher Cabaldon (Mayor, West Sacramento)
2009: Deb L. Kinney (Lawyer and LGBT Activist)
2008: Christopher Daley (Co-Founder of Transgender Law Center)
2007: Susan Stryker (Author and Filmmaker)
2006: Aleem Raja (Public Defender & SF Pride Parade Grand Marshall)
2005: Bevan Dufty (San Francisco City Supervisor, District 8, 2000-2011)
2003: Jackie Goldberg (California State Assemblywoman, 2000-2006)