QT Pie: A Queer, Trans, LGBTQ+ Welcome Event (Fall 2022)
Friday, September 16, 2022
4-6pm PST
The Gender Equity Resource Center
202 Cesar Chavez
Please register at tinyurl.com/QTPie22
Find queer and trans community resources and friends at the Fall 2022 QTPie Welcome Event, open to all UC Berkeley students! There will be food, activities, tabling, and giveaways! 
Please contact joannavillegas@berkeley.edu for accommodations and questions! 
GenEq adheres to current DPH guidelines, masks are recommended.
Sponsored by the Gender Equity Resource Center (GenEq), the Queer Alliance and Resource Center (QARC), and Unity House.  This event is wheelchair accessible.  For disability-related accommodations please see access.berkeley.edu.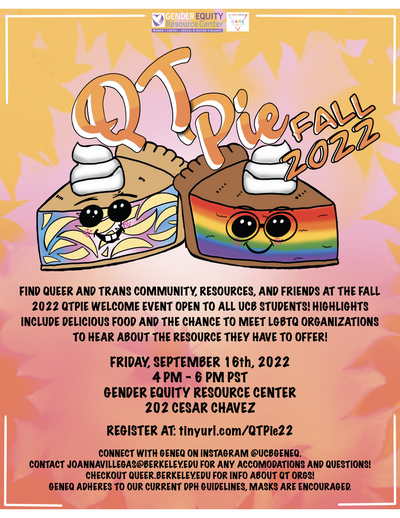 Why QT Pie?
Our queer and/or trans (QT) communities are made up of beautiful, amazing QT pies! #imaqtpie is a way to recognize, celebrate, appreciate, and empower our identities.